Tests add to financial pressure
[media-credit id=124 align="alignnone" width="238″]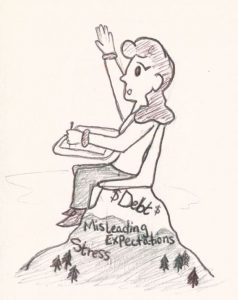 [/media-credit]
If you are interested in paying hundreds of dollars in tests alone, in addition to your tuition, then an education major may be the one for you.
Students pursuing a degree in education are required to pay to take three, sometimes four, tests that do not necessarily evaluate their ability to stand in front of a classroom full of students and teach.
Professor Dr. Suzanne Fondrie of the education department shared her thoughts on the subject.
"I think that there have been external pressures to prove that teachers are good," Fondrie said. "I don't have anything against them, per se, but they're expensive."
Fondrie added that standardized testing in general can cause stress, and when students are being evaluated on how well they can instruct a group of individuals, a pencil and paper isn't the best way to go about it.
"Does a standardized test tell you what a person is going to be like in the classroom? No," Fondrie said. "I've had people who struggle with those tests and when I saw them in the classroom, they were wonderful, knowledgeable teachers."
UWO senior education major Kaitlyn Albrecht said she agreed these tests do not evaluate students the best way possible.
"I think there has got to be a way to do it differently," Albrecht said. "I think that if they want to do a test like this in the classroom so that our professors can evaluate us then that's fine. But I think there has to be a different way [to do it] as far as applying it to real life and actual students in front of us."
Albrecht said she didn't feel that the required test she took this week, the Foundations of Reading Test, was a good indicator of her ability as a teacher.
"I studied for it the night before and I was able to memorize and apply definitions as far as tests go," Albrecht said. "But it doesn't show that I can apply it within the classroom with real students in front of me."
Not only do these students have to take tests that do not accurately assess their abilities, but they have to pay unreasonable amounts of money for them.
Professor Dr. Joshua Garrison of the English department said the cost of these exams for students worry the department.
"It is a concern we have, that a student is being asked to spend this amount of money of the course of their years here," Garrison said. "It bothers me that a student has to spend $700-$800 dollars for these tests."
Garrison added that many UWO students come from working class families, and that students attending the university are often working their way through school. Having to pay for these tests out of their pockets is just another burden.
Fondrie said that if a student happens to fail one of the tests they have to pay each time to retake it until they pass.
"We try to make it so that you can put it through as financial aid but the second time [you have to take it] you've got to pay that out of pocket," Fondrie said.
UWO does not have any funding or stipends to help students pay for these tests. If someone cannot afford to pay to take a required test, then they may have to make sacrifices in their life to save up, or they have to choose not to take it, which prevents them from moving further in their degree.
"I did have one student who told me she was going to the food bank because she had to save up for her FORT," Fondrie said. "It's a choice between taking a test and eating."
Is it necessary to require students to pay out of pocket costs in order to show our society that they are good enough to teach?
There is a saying that goes, "Those who can, do. Those who can't do, teach." But these students are proving that they can and this country's school system is forcing them to pay to prove it.
"There should be scholarships that can help us out," Albrecht said. "Or they should at least pay half of it. Or pay the full thing the first time you take it then if you fail it the first time then maybe you have to pay for it."
UWO needs to have some sort of funding to help students pay to take these tests. Every year, students are paying to get an education here and they should not be forced to pay additional fees just to prove on paper what they have been demonstrating in class.
Education majors are not the only ones that have to pay for exams like these. Many majors require outside testing and UWO needs to offer support to students who need it. "