Too busy for Homecoming
[media-credit id=157 align="alignleft" width="300″]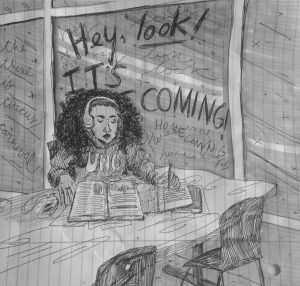 [/media-credit]
Across the country, Homecoming is a time of festivities and school pride, but at UW Oshkosh half of the campus does not even realize that it is Homecoming until the week has passed.
If it weren't for a comedian show or the sale of Homecoming shirts, the campus would be in a haze, completely unaware of the week of activities.
This isn't necessarily a bad thing or a reason to call students careless and unappreciative.
By its very definition, Homecoming is a time for alumni, not current students.
In high school, Homecoming week was all about school spirit, leading to the big game at the end of the week, while in college it's quite different.
Yes, there is still a football game to end the week with, but here, Homecoming is full of Alumni events with a few small activities aimed at students.
These events, such as a comedian, talent show and window painting, are almost no different than any other event on campus throughout the year; and this may be why no one realizes it's Homecoming until the week is over.
Homecoming in college is nothing special. There are no in-your-face displays of school pride like in high school. Apart from Yell Like Hell, the week is just ordinary in terms of school spirit.
UWO senior Jake Driessen said he has not participated in any Homecoming events during his time at Oshkosh.
"It's kind of irrelevant to college students," Driessen said.
UWO senior Kaitlyn Albrecht said being a full-time student just gets in the way of participating in the week of events on campus.
"I feel like I'm too busy to care about it," Albrecht said. "I didn't even have a clue that it was Homecoming."
It often seems that faculty on campus are disappointed in students for not participating in events, but maybe everyone is just too busy to think about it.
Expecting students to dedicate a full span of five school days to showing school pride is unreasonable. The workload and stress placed on students often doesn't allow us to participate in events every night.
"I think people have school spirit," Albrecht said. "Why can't you just [show it] every day?"
Why is it that students are expected to go all-in during one week to show they care about their school? Is it just to carry on the tradition of Homecoming?
Although the week of events does not get a tremendous turnout of students, it does not mean that the UWO campus does not care about their school or have pride in it.
The amount of tickets sold to a comedian or the number of people in the stands at a pep rally cannot sum up the amount of spirit a campus does or does not have.
Instead of getting on students for supposedly not appreciating the events the campus offers them, faculty needs to understand that students are busy. Students would undoubtedly much rather partake in every event offered to them during Homecoming week than deal with the school load thrown at them but that isn't how life works.
Faculty and others on campus must understand that school pride cannot be measured in the participation during one week, but instead during the normal day to day life of years spent at UWO.