[media-credit id=157 align="alignleft" width="300″]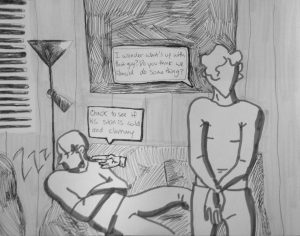 [/media-credit]
What better way to get students to understand the severity of sexual assault, and the effects of drugs and alcohol than a required online training?
UWO freshmen are now required to complete the online course titled Think About It on the CampusClaritysite which is in accordance with the Campus SaVE act.
The Campus SaVE Act "complements the Title IX Guidance by the U.S. Department of Education's Office for Civil Rights" according to the Clery Center website. The purpose of this act is to address the different violences that many women face on college campuses.
These topics are crucial for students to learn about and while an online training may be somewhat effective, it is not the best choice.
Online courses do not require the same amount of focus as in-person courses, as they can be quickly clicked through and be given less attention than deserved, which may result in less retention or understanding of information.
With serious topics such as sexual assault, harassment and violence, an online training may not have a lasting impact the way a traditional course may have, due to the lack of in-person interaction.
Director of Equity and Affirmative Actions Patricia Schrader said this program was purchased for use for the whole UW System in order to facilitate the required training.
"This training was provided as an initial attempt to meet the university's training requirements under the federal mandates," Schrader said.
Schrader specified that as of right now this program is only required for new freshmen and transfer students and this is the first semester the program was integrated.
While this semester was only a test run, Schrader said the campus does intend to continue to use it for all incoming students each year.
According to the Campus SaVE Act website, CampusClarity courses can be customized for institutions requirements. This means this is not a generic course, but is narrowed in on the needs of a campus.
The site states schools are required to "provide state specific definitions of consent, domestic and dating violence, sexual assault and stalking."
A tailored program allows for students to better understand these topics and how they relate to them on campus and in their community, but the lack of a classroom environment can have its effects.
Schrader said the required students began receiving emails about the program in late September with links to the course. Starting Oct. 20, students who hadn't completed the course began to receive daily email reminders.
Online requirements seem like they would be completed easily, but often get forgotten about.
With the amount of emails sent out, posters hanging in dorms and constant reminders for underclassmen about completing Mapworks, it is safe to say if a student isn't forced to sit in a classroom and do something, they're going to put it off for as long as they can.
This program is intended to be a preparation course that teaches incoming students about sexual violence and safety on campus. If a student is putting this off until more than half way through the semester, they may have already been exposed to the sort of things that this course is designed to inform them about and help prevent.
No matter how many daily emails a students gets about this program, they're most likely going to keep putting it off in hopes of it eventually going away, because dedicating yourself to sitting at a computer for an hour is just absurd, unless it's social media of course.
This program is important for students to go through, though. It should be something that they are informed about and should be getting something out of, not just clicking through it mindlessly, hoping for it to be over with.
There are two solutions to this. One would be to provide this sort of training, but in an in-person environment.
Schrader said she thinks an in-person training could be effective, but was hesitant about how well students would comply with it.
"[In-person trainings] would be beneficial for students," Schrader said. "However, in order to ensure everyone attends [and] completes the training, the online version is the easiest for all parties involved to satisfy the federal mandates."
At the rate students skip class, an in-person course may prove difficult to enforce but it would provide the most benefits. Sitting through an entire class, whether it's a two-hour, three-hour or full three-credit seven-week course, would provide students with a better understanding of what they're being told and they would get out of it than an online course.
A second solution would be to keep the online course because, as Schrader said, it is the easiest way to track that all students have completed it. However, instead of leaving it up to the students to eventually complete it at some point during their first semester, incorporate it into freshman orientation days.
In the days leading up to the first day of school where freshmen are lead through activities, make this one of them. If all freshmen were taken to computer labs across campus at some point during orientation to complete this, it would ensure they received it prior to beginning their first year at UWO.
Not only would they have it completed before starting school but it would allow for students to have a group discussion after completion to discuss what they took out of the training and their thoughts on it.
The Think About It training through CampusClarity is a beneficial and important program for all students to take part in and UWO making it a requirement for incoming students will hopefully make UWO a safer campus for students.
However in order for students to get the most out of the program UWO could make adjustments to how it is enforced in order to make it as effective as possible.