UWO needs to help students stop overspending on books
[media-credit id=157 align="alignleft" width="300″]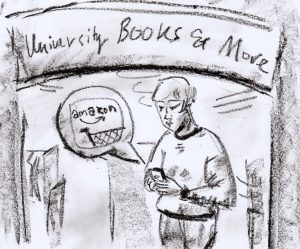 [/media-credit]
Each semester students spend around $400 on textbooks that they open maybe once or twice during the semester.
For the average full-time, in-state student, a semester's worth of tuition is $3,773, and that's without a meal plan or living on campus. Add in around $400 for books and that will add up to $4,173 a semester. That's $8,364 a year, not including anything else that comes with being a student, such as living expenses, lab fees, a caffeine addiction or anything fun that comes with a cost.
Not only is signing over a check to the school for 14 weeks of torturous classes each semester hard, but then paying for stacks of paper you may or may not even need or use is even harder.
Some students choose the route of going through a week of classes and then deciding if the textbook is worth the splurge. If they go that route there's the issue of whether or not the book is available, maybe they're already behind on homework or maybe the price went up. That stress is not something everyone wants to take on.
So unless you want to take the time to compare the UW Oshkosh bookstore costs to every other textbook site available to you, the route most take is picking one, such as Amazon, and getting everything from there.
In general, the prices on Amazon or Barnes & Noble are much more reasonable than UWO's and they often offer better rental deals. However, with the increase in the amount of UWO students going to other sites for text books, the income UWO could be making is being affected.
UWO senior Samantha Walvort said she recently stopped buying her books through the school's bookstore.
"I generally bought all of my textbooks from the school up until this semester," Walvort said. "I realized that I was spending hundreds of dollars more on books each semester than I had to be."
UWO bookstore director Kathy Kaltenbach said the bookstore has noticed fluctuations in terms of book sales as a result of the growing popularity of alternative book sources. In order to combat that, they are trying to provide students with more rental options.
"We are doing everything in our power to increase the number of books available for our students to rent," Kaltenbach said. "As a result of expanding the number of books available [this semester] there was a cumulative cost saving for our students of approximately $100,000."
Kaltenbach said they try to source used textbooks to sell to students before purchasing new ones. However, she said the availability of used books depends on various factors, such as which edition is needed, if an access code is necessary or if it's a new title for the campus.
While increasing the amount of used books and available rental options is helpful, UWO should consider taking on a system similar to those available at other UW schools, such as Eau Claire, Platteville and Whitewater.
At UW-Whitewater, students pay approximately $85 per semester with their tuition to cover any textbooks they may need. With that $85 fee they can rent almost every book they need for their courses without paying any additional costs.
According to the UW-Whitewater bookstore's website, the main exceptions to this no-additional-fee policy are required novels, access codes or lab manuals. But when novels generally don't cost more than $15, this doesn't cause much heartbreak.
If UWO took this on, the average student would pay a tuition costing $3,818 as opposed to the $4,173 they're currently paying each semester.
Currently, UWO has 13,900 enrolled students, and adding $85 to each student's tuition would bring in $1,181,500 to campus in just one semester.
With the amount of students straying from buying books on campus, it's hard to imagine they're currently bringing in this amount of money in one semester on books alone.
In just a few years of starting a program like this, UWO could bring in much more money than if online competitors continue taking business away from the campus bookstore.
Walvort said she likes the convenience of getting books on campus, but it's the cost that keeps her from going back to the bookstore.
"I wish we had a rental system like other UWs because not only would it be cheaper and less stressful to students, but I also feel that it would heavily reduce the confusion of which book to get and if it is even required," Walvort said.
With the concept of a program like this comes the practicalities of actually starting it up.
Kaltenbach said starting this sort of program would require an astonishing initial investment.
"The startup cost of a program like this for a school our size is approximately 1 million dollars per 1,000 students," Kaltenbach said. "In addition to the startup cost is the structure necessary for the program to work."
Kaltenbach said there have been different consultant agencies that have looked into similar programs on behalf of UWO, however none have resulted in determining it being UWO's best option.
While the startup may be a difficult process, the benefits outweigh the costs.
A program like this would prevent UWO students from getting as frustrated as they do trying to find the right book for the right price, and they could avoid the nightmare of paying more than $100 for a book they may not even find useful.
Instead of steadily losing out on book sales to competitors, UWO should consider taking on a program like this that is similar to other UW schools which would ultimately make students happier and bring in more money to the school.