[media-credit id=157 align="alignleft" width="300″]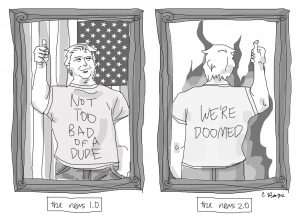 [/media-credit]
In this day and age, it is difficult for anyone to avoid the media. Watching television, reading newspaper or magazine articles, scrolling through social media, and having conversations with others are just a few of the ways in which people are connected to the media in their everyday lives.
Because news comes to audiences from all these different sides, people can often become oversaturated with all the information they absorb. Audiences can also become skeptical of the reliability of news following the rise of fake news.
UW Oshkosh junior Markus Oechsner said the level of trust that people put into sources is dependant on the reliability of the media.
"If we put trust in them for these stories, then they can really just keep feeding us what we want to hear," Oechsner said.
Fake news makes it difficult for audiences to be entirely sure of what is really happening in the world around them, and it prompts a question of whether or not news sources are reliable.
According to CNN, the awareness of fake news grew exponentially when the Trump administration sought to discredit popular news sources.
An article from The New York Times described an example of fake news that occurred on Twitter involving an anti-Trump protest in Austin, Texas on Nov. 9.
The article stated that on Election Day someone took pictures of tour buses in the downtown Austin area, which insinuated that the buses were full of paid protestors. Soon after the photos went live, the post went viral. The tweet rapidly moved from Twitter to Reddit and Facebook within days before it was uncovered that the buses had no affiliation with the protest.
Audiences should not allow fake news to dictate their opinions about the media because it is often just misinterpretations that have been blown out of proportion.
Additionally, people should not let cold feelings toward certain news platforms or reporters overtake their judgement of all media sources.
Another reason individuals may be wary of the media is due to false reporting. False reporting cases are not overly typical, but they can have negative consequences on the entire media institution.
An example of false reporting occurred in 2003 when NBC reporter Brian Williams falsely reported his role in the covering of the Iraq War.
According to The Washington Post, Williams insinuated, while reporting in Iraq about the war, he was in a helicopter which was being fired at from below.
However, it was later revealed that Williams was aboard a different helicopter than the one that was fired upon.
Rare instances of misinterpretation or false reporting should not sway audiences to believe the media is unreliable. People should not allow these few incidents to control their outlook on the media as a whole.
The public can begin to trust the media by learning to recognize when news is real or fake. If audiences use critical judgement when dealing with news stories, it will be easier for them to identity the truth from the lies.
If an individual puts out a tweet that Barack Obama was sighted skydiving with Vladimir Putin in Russia, readers should not jump to conclusions that what they are seeing is the truth.
Audiences should not believe everything they read, see and hear. Instead, they need to make sure that they check the news they are coming across by comparing it with other sources.
Oechsner said people need to evaluate what the media is telling them in order to discern the truth from the lies.
"If people will investigate facts more for themselves and what not, then I think we can say, 'Okay, media, you're not telling us the truth,'" Oechsner said.
The public should not give up on the media. Although there are some sources that are spreading fake news, there are plenty more that are displaying hard facts.
On a more local level, the Milwaukee Journal Sentinel covers information about the UW System while the Oshkosh Northwestern and the Advance-Titan cover UW Oshkosh. These news outlets work hard to keep the local community informed.
The media is important because its primary purpose is to let people know about what is going on around them. If people can see the media as a reliable source of information, it can continue to keep the public informed on what it needs to hear.