[media-credit id=157 align="alignleft" width="300″]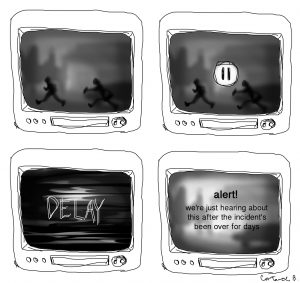 [/media-credit]
If a dangerous incident takes place in the UW Oshkosh area, Titan Alerts are an easy way to keep people informed about the situation.
Severe weather warnings, campus emergencies and safety concerns such as robberies or assaults can reach the attention of students, faculty and staff through email or text. This system alerts the campus of the incident and give details about the situation.
It can also ensure the UWO community the campus police either have the situation under control or are working to ensure they get to the bottom of the issue in order to maintain a safe atmosphere within the community.
The Titan Alerts system is productive because it keeps the UWO community both aware and safe, but there needs to be a way to make the alerts more effective so the campus can be informed sooner.
However, when incidents that lead to Titan Alerts take place, oftentimes the alerts are not sent out as quickly as some students think they should be.
This semester a few Titan Alerts have centered around situations such as robberies and armed attacks, but for the most part the alerts did not get sent out until hours or even days after the incidents had occurred.
A recent incident, which involved a 30-year-old intoxicated Oshkosh man with a handgun transpired in the early hours of Sunday, Feb. 11 at 12:39 a.m.; a Titan Alert was not sent out to students and faculty until many hours later at 10:52 a.m.
Similarly, a Titan Alert was delivered at 12:14 p.m. on Monday, Feb. 20 regarding an armed robbery near the UWO campus where two males were robbed and assaulted, leading to the arrest of two adult males and two juvenile females. The robbery was reported the night before the Titan Alert was sent, on Sunday, Feb. 19 at 9:07 p.m.
Other times, Titan Alerts do not inform the public of events for several days.
A Titan Alert sent out on Monday, Feb. 20 described two on-campus thefts from vehicles in UWO parking lots. The thefts were reported three days earlier on Friday, Feb. 17.
When burglaries began to take place in South Scott Hall, a Titan Alert was only sent out on Feb. 15, after an investigation was already active. The day after the alert, an arrest was made. An update to the Titan Alert said the University Police was able to make an arrest because of the cooperation and assistance of the UWO community.
If a Titan Alert had been issued sooner and the campus community had the necessary information to assist in the investigation, the arrest might have been made earlier, leading to the occurrence of fewer burglaries.
UWO Police Department Captain Chris Tarmann said the UWO community benefits from Titan Alerts in a variety of ways.
"We believe our community members will watch for and share helpful information, which will ultimately help us solve those situations quickly," Tarmann said. "We believe that an informed community is a safer community."
It is important for Titan Alerts to be sent out in a timely manner, especially when the alerts center around emergencies.
With the rate of how long it currently takes students to receive Titan Alerts, it is unlikely we would hear about an actual emergency on campus, such as a school shooting or a bombing, until hours after it had finished. Students deserve to know what is happening on campus, especially when it involves their safety.
UWO sophomore Bella Lombardi said the speed of Titan Alerts is a problem that should be changed, especially if the included information is already gathered.
"If there's a danger or a threat and you don't know about it, then you won't be able to prepare yourself," Lombardi said. "Students can't take necessary precautions to protect themselves if they get the information too late."
The amount of time necessary for gathering the right information for Titan Alerts can be lengthy. When these alerts come late, they often serve as follow-up information rather than alerting the campus about what is currently happening.
The information Titan Alerts provide to the UWO community plays a significant role in campus safety. However, since the alerts usually take a while to get sent out, by the time the information reaches students, the situation is already resolved and the information is virtually useless in helping students stay aware of what is going on around them or helping them stay safe.
The University should still take the time to get necessary information and fact check, but should not wait too long after acquiring the information to get an alert out.
Tarmann said the content individual Titan Alerts center around is what dictates whether or not an alert is issued.
"We make the decision to send these alerts based on the information we have in the moment," Tarmann said. "If there's a serious incident that poses a significant threat to our community, but the police respond and apprehend the suspect right away, then an emergency notification may not be sent but we may follow-up with a timely warning."
It is understandable that it takes time for information to be gathered and facts to be checked, but it is still important to keep the campus community aware much sooner in order to maintain safety for all students, faculty and staff.