[media-credit id=157 align="alignleft" width="300″]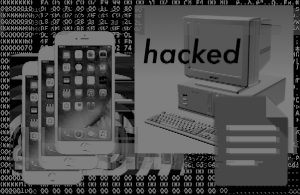 [/media-credit]
The increasing use of technology in today's society has opened up many new windows for individuals who choose to take advantage of the rising digital world.
People can now post their thoughts, feelings, memories and other important parts of their life to social media sites and other areas of the internet. Close friends and family members can then access the information, but a lot of times, so can the rest of the world.
This abundance of information sharing is great on the one hand, but it can also leave people extremely vulnerable to outside threats.
The growth of technology has made it easier for people to store files such as photos and videos online. Instead of using precious storage on phones and computers that can be filled up easily and quickly, people can keep this information readily available through internet based storage like Apple iCloud, Microsoft OneDrive or Google Drive.
Although this new form of internet storage is convenient for users, it also makes them more prone to cyber hacking. People need to make sure they are paying attention to what they put on their phones, computers and the web and take precautions to ensure they do not become victims of cyber attacks.
Users should be cautious of cyber hacking because photos and videos, which are usually only intended to be shared with family, friends or a significant other, can be hacked and end up all over the internet.
In a New York Times article from Jan. 23, 2017 titled "Where Does Cloud Storage Really Reside? And Is It Secure?" Quentin Hardy said people often worry about their security due to the omnipresence of computing clouds.
"We hear more and more often about hackers coming over the internet and looting the data of thousands of people," Hardy said. "Most of those attacks hit traditional servers, though. None of the most catastrophic hacks have been on the big public clouds."
Regardless, users need to make sure they are cautious of cyber hacking when using both traditional and cloud servers to store their information, as their once private information can become accessible to the public if hackers get their hands on the material.
Even if companies claim their storage systems are secure, there is still a chance that hackers can gain access to private information such as photos and videos, as well as access to banking and financial information.
UW Oshkosh Interim Vice Chancellor Brandon Miller sent out an email to all UWO students on April 13 advising them to be wary of cyber hacking.
"These cyber attacks target social media accounts and Apple's iCloud service in hopes of gaining access to private photos and other compromising or embarrassing materials," Miller said. "If materials are accessed, the hacker blackmails the victim in an attempt to gain cash payment or additional compromising material."
People must understand that cyber attacks are a real thing and people of all ages are at risk.
Miller told students not to agree to blackmail if this happens to them but rather to contact the University for help and to reach out to the Dean of Students Office, the University Police or the Counseling Center for assistance.
Users need to take the necessary initiative to minimize the risk of a cyber attack. Miller said students can ensure that cyber hacking does not happen to them by securing their information with strong passwords and multi-factor authentication.
"Students need to take every precaution to secure passwords and materials they want kept private," Miller said. "If there is a hack and someone tries to blackmail you, please come forward and ask for help. Unfortunately, complying with the blackmail demands may only result in more demands being made."
In order to prevent both cyber hacking and blackmail, students should also be cautious of the content they store on their phones, computers and clouds and also think before posting certain information onto social media sites. This information can easily be accessed by hackers, and it is the responsibility of individuals to prevent this from happening to them.
It is insane that people, especially those of younger age groups, are unaware of these consequences in today's day and age. If they are aware, they are still choosing to put things online that can be hacked despite knowing better. People need to understand that nothing on the internet is private, no matter how secure they think their storage place is. Be smart and conscious of what you put out there.
Students should also make sure they are thinking about what they are taking pictures of and then posting online. If compromising photos are hacked it could lead to embarrassment, and if personal information is hacked it can lead to identity theft.
Cyber hacking can cause a strain on people's lives both personally and professionally. Even if this information is not posted to social media sites, there is still a chance that hackers can access it from phones and computers. It is better to be safe and refrain from taking compromising pictures at all, than be sorry.