[media-credit id=276 align="alignleft" width="185″]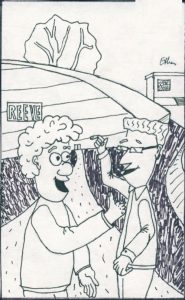 [/media-credit]
While freshmen orientation may seem long and pointless, it's an important time of transition between high school and college. Orientation allows incoming freshmen to feel more at ease in a new environment, learn their way around campus and get the chance to meet new students their own age.
This year there were some changes to orientation and welcome week. One new addition was Titan Takeover.
At Titan Takeover, freshmen rushed the football field before the UWO football team faced the Virginia University of Lynchburg. The event drew students to the game and gave freshmen a taste of the football traditions here at Oshkosh.
The Coordinator of New Student and Family Programs, Jennifer Hartzheim, who worked with Titan Takeover, described why the event was created.
"[We're] adding it onto welcome week and looking for, with Titan Takeover specifically, what are ways that we can have our students engage more on campus?" Hartzheim said. "And one of the ways that we know that students become engaged and involved is through athletics and being [here], maybe not being there as an athlete, but being there as a supporter. And that can be an important part of their connection to the school and friends, which all helps students be successful in college."
In addition to the first Titan Takeover, the Glow Party was revamped. It was expanded, and the attendance was higher than previous years. It was an improvement and foreshadows the success of future changes that will be made to welcome week.
UW Oshkosh invites speakers to orientation in order to not only inspire new freshmen to do their best but also to help them feel as though they are not alone in this new experience. In contrast, there are events during welcome week that allow students to relax and have fun before the school year officially begins.
After new successes were seen in this year's orientation, Hartzheim said there will be many more added in coming years.
"[There are] going to be a lot of changes in the future, I think, as we look at the intentionality of what we do for orientation and why we have certain programs," Hartzheim said. "And there's some things I think we've done for a long time that, maybe, they still are relevant, and other times things change. Looking for ways that we're still staying relevant to our students is really important."
Although many freshmen choose not to participate in orientation activities, those who do feel more comfortable finding their classes on the first day, have orientation leaders to look to for guidance and are more aware of the clubs and activities offered on campus.
UWO must continue to not only offer an array of interactive activities during orientation week but to also keep to encouraging all freshmen to attend these programs each year.
Additionally, it is a must that these on-campus events continue to be offered as the school year progresses, to ensure not only freshmen feel at home at Oshkosh but students of all years do as well.
UWO is headed in the right direction to help new students feel welcomed at the school and ease the transition between high school and college. Better events with more variety will encourage more students to get involved at the University and make their college experience better.