[media-credit id=277 align="alignleft" width="300″]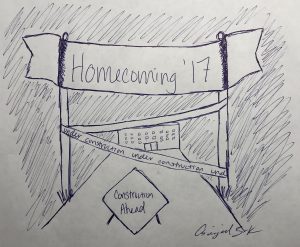 [/media-credit]
Homecoming at UW Oshkosh needs to be revamped in order to encourage more students to actually participate.
There need to be major improvements made toward how information about Homecoming is sent out to students. Students do not hear much about Homecoming after freshman year, and many of the events fly under the radar.
Homecoming events have hardly any notification about what the event entails, freshman Rachel Gramlow said.
"I think there needs to be more emphasis on what is actually going on with the events," Gramlow said. "I've barely heard anything about them."
Rather than just a few emails about the specific events without even mentioning that they are for Homecoming, there could be more posters up around campus.
There should be a high concentration of posters in Reeve, quite a few posters in the academic halls and some in the residence halls.
There could be a specific mass email sent out about Homecoming events, describing them and telling students when they start and their location.
However, no amount of advertising can help a campus that doesn't have much school spirit. This is something that UWO junior Taylor Mueller feels is part of the problem with the low attendance at Homecoming events.
"I feel like UWO as a student body lacks school spirit," Mueller said. "I think only the Greeks, sororities and frats get involved in it and do events. Even though they're open to the public, no one really gets involved in them."
UWO senior Ryan Thomas said he has also noticed the lack of student participation.
"I never know about the events until it's too late, but then the general feelings for these events amongst my friends is that no one goes, so we don't want to either," Thomas said.
UWO junior Kimberly Boyer feels there needs to be more diversity in the kinds of events held for Homecoming. She believes this may help draw more people to attend the events.
Boyer said many of the events on campus are geared toward Greek Life and clubs, which prevents other students from attending.
"I don't hear about many of the events, and a lot of them are mainly for Greek Life or students in the dorms [but] not anyone else," Boyer said. "Otherwise, it's formal events that cost money and that have a lot of interest, like the comedian. Either not everyone is included, or there's too many people wanting to go."
There need to be more events that encourage individuals or small groups of friends to attend. Not every student on campus is involved in Greek Life or in a club.
There could be a Homecoming night that would be similar to Titan nights but with special events that fit the Homecoming theme.
There could be a themed party that students could dress up for Boyer said.
"With games and activities there that would follow the same theme for Homecoming," Boyer said.
To make students feel more involved with Homecoming, students could be allowed to vote on who the Homecoming comedian would be every year, senior Katherine Vopal said. The voting could be set up in a similar fashion to the Bye Gosh Fest.
UWO Homecoming needs to be improved for students to actively participate in any way, shape or form.