[media-credit id=276 align="alignnone" width="300″]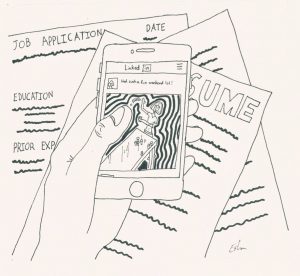 [/media-credit]
There's nothing like waking up on Sunday mornings to Snapchat stories filled with videos of college students playing beer pong or Instagram posts of underagers holding bottles of Mike's Hard Lemonade from the night before.
When you're at a party this weekend during Pub Crawl, and want to take a selfie with a friend while holding glasses of pink moscato to put into your "Freshman Year 2017" album on Facebook, it may seem like a good idea.
However, six months later when an employer is viewing your social media accounts to see if they should hire you, you realize that idea probably isn't so great.
These days, many employers Google search applicants online and will use what they find to help them decide whether or not to hire someone. Since anything posted on the Internet stays there forever, they will certainly find any drunk pictures posted on social media.
UW Oshkosh junior Amanda Beistle said she truly believes employers look into different social media accounts when considering to hire an employee.
"I think that [employers] do," Beistle said. "It's similar to how when we look up people we are about to meet, or just met, on social media to find out more about them. I feel like employers do the same thing in order to get to know their applicant before interviewing."
Beistle said it is important to consider what is in the picture before posting it.
"If the stuff you're posting portrays you negatively, like posting a bunch about partying and getting drunk, [an] employer might think you don't care enough about, say, academics or something," Beistle said.
UWO Radio/TV/Film professor Andrew Smock discussed some of his advice for students to follow when posting on social media.
"The advice that I often give students is, you know, think about that worst-case scenario or that 'nightmare reader' that might come across your profile — if that's a potential employer [or] a parent — and use that as your way to filter what goes up," Smock suggested.
For many employers, it's similar to a less formal background check, Iowa Drake University senior Alexandria Porter said.
"It's like another layer of a background check," Porter said. "If an applicant has a lot of highly offensive things posted, it may be a red flag to an employer as once the person is employed it could come down on the employer if they post something highly inflammatory. I've seen it happen at former workplaces. I don't think an employer should make a large part of their decision based off the profile on social media though."
Another Drake University senior, Sarah Mondello, added that while having negative photos on social media can reflect poorly on an applicant, so can having no social media accounts at all.
"I've heard that it's a red flag if [employers] can't find you online," Mondello said. "And they'll be evaluating what they find to see if your online presence is professional. If it's not, that's also a red flag."
An article in Forbes magazine "8 Social media mistakes that are sinking your job search" by Kate Ashford recognized some of the red flags that can cause employers to not hire an applicant. The red flags Ashford found included constant complaining, posting non-work messages during office hours, criticizing your past or present boss, inappropriate photos, under-utilizing LinkedIn features, not having a photo on LinkedIn, having a boring social media profile and assuming you're getting the job.
"The photos that throw up red flags for a potential employer may not be the ones you'd expect," Ashford wrote. "For instance, that photo of you holding a firearm in an irresponsible manner? Not a great idea, says Rick Anglada, a retired New Mexico state police lieutenant who conducted countless background investigations on job applicants during his career. Other photo misfires: pictures that involve partying or alcohol consumption."
Photos with crude gestures in them are also included as red flags within Ashford's article.
Smock mentioned the three major topics that should not be posted about on anyone's social media accounts.
"In terms of what not to post, the big rules are the drunk pictures — don't post the crazy party pictures," Smock said. "Don't post things that are overtly political, don't post things that are big religious statements — those kind of hot button issues that you wouldn't necessarily want to talk about with a stranger anyway. Don't put it out there for a stranger who's going to be searching the web for information about you to encounter, then leave it up to them to interpret how you really feel about it or how it might really reflect on you as a person."
Posting on social media can be a double-edged sword — it can help you get a job, but it can also harm your chances at an interview. It's fine to go out and party during college, but be smart about it, and don't post on your social media accounts when you do it.