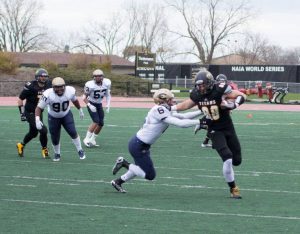 Former UW Oshkosh tight end Joe Sommers signed a NFL free agent contract with the Chicago Bears moments after the conclusion of the 2016 NFL Draft on Saturday night.
"I'm excited to get to work," Sommers said. "I'm heading to Chicago on Sunday, and I'm just anxious and can't wait to get down there and get started."
Sommers said he watched the draft and focused on other tight ends that were selected and compared his numbers to them.
"I watched the first couple rounds, and it was a long, dragging process," Sommers said. "It definitely made the day go longer, and I probably shouldn't have done that."
Sommers watched the draft with his family in Hortonville as he took calls from NFL representatives on Saturday.
"I had been talking to a few coaches throughout the day, but once the sixth and seventh rounds started, the calls started coming in more and more," Sommers said.
Among the teams that called on the third day of the draft were the Carolina Panthers, Cleveland Browns, Chicago Bears, Pittsburgh Steelers and Indianapolis Colts.
Sommers said he was pretty tense as the final round went by.
"I was pretty wound up for that," Sommers said. "I had a lot of hopes getting picked obviously. I was told that might happen, so I was pretty anxious during the seventh round."
With the 250th overall pick in the seventh round, the Browns were on the clock, and Sommers' agent Ron Slavin told him to get his phone ready.
"I got a call from an Ohio number right before their pick, so I thought for sure it was Cleveland calling to tell me they were going to draft me," Sommers said. "But it just happened to be a Bears coach with an Ohio number."
At the conclusion of the draft, Slavin signed the contract electronically, and Sommers signed the following day.
"Going in, I knew there was a chance I would get drafted, but I told myself not to get my hopes up too high," Sommers said. "I definitely was hoping I would be, but it didn't hit me like a truck or anything that I didn't get drafted."
According to Slavin, Sommers' base salary numbers are $450,000 in 2016, $540,000 in 2017 and $630,000 in 2018 with a $7,521 signing bonus.
"After we got the call saying I'd be playing for the Bears, half of the town of Hortonville stopped in to say congratulations," Sommers said. "We cooked out, had some drinks, and it was a good day."
Slavin said going undrafted can sometimes benefit players.
"Once you get passed the sixth round, it's a crapshoot of what teams are going to do," Slavin said. "In reality, sometimes it's better not to get drafted because you can choose where you want to go."
Sommers and Slavin decided Chicago would be the best fit for him to begin his NFL career.
"Chicago's depth at tight end isn't the greatest, and they didn't draft a tight end, so it made sense for Joe to go there," Slavin said.
Sommers said the fact Chicago wanted to sign him immediately after the draft ended as a priority free agent proves the Bears are intrigued by his potential.
"I think it means they want to give me an opportunity," Sommers said. "An opportunity is all that I can ask for. Nothing is going to be given to me as an undrafted free agent. It's still a tough road ahead, but I'm just excited about the opportunity to get my foot in the door."
According to Aaron Leming, who covers the Bears for BearReport.com, he spoke with a scout that said Chicago got a steal with Sommers.
"I spoke with a scout from an outside team that had a fifth round grade on him and called the pick up a big one," Leming said. "Also, he said he would be shocked if Sommers didn't make the team."
Leming, Sommers and Slavin each acknowledged with the departure of Martellus Bennett, the Bears' depth at tight end was a need going into the draft to back up starter Zach Miller, which creates an opportunity for Sommers.
"Outside of Zach Miller, the Bears have no guaranteed roster spots," Leming said. "They didn't draft a tight end, and the depth behind Miller includes Rob Housler, Khari Lee, Gannon Sinclair and fellow undraftee Ben Brauckener out of Harvard. If Sommers shows up in training camp, provides an overall good game, especially in the blocking department, he'll have as good of a shot as any player on the roster behind Miller to make the final roster."
Leming said he likes Sommers' chances of making the Bears' 53-man roster this fall.
"With little depth behind Miller, I would say his chances are very good," Leming said. "If the scout I spoke to is right in what he says, there is a strong chance he will break camp with the team. Ultimately, I think it will come down to the team keeping three tight ends, and one if not two of them will need to have a strong suit as blockers. My personal prediction is that it will come down between Braunecker and Sommers for the last spot."
Slavin said Sommers completed step one, which is getting an opportunity, and now he has to make the most of it.
"Making it to the NFL from Division III to get a legitimate shot is hard, and then to make a roster is even harder," Slavin said. "He knows he has to put in the work to make it all happen."
According to Slavin, special teams work and overall offensive versatility will be key in whether Sommers will make the Bears' roster.
"He has to contribute on special teams," Slavin said. "He'll have to learn the playbook fast and prove he can do some different things. Joe can block, he can come out of the backfield as a fullback, and obviously he can catch the ball. The more you can do, it always helps you make a roster."
Sommers said special teams play and hard work will give him a good shot to make the team.
"I really have to make an impact on special teams," Sommers said. "That's something they're expecting out of me, and I look forward to that role. The last couple years I haven't been able to do that in Oshkosh, but I was always bugging my special teams coach to get me in there. I just love getting running full speed to make plays like that. I just need to come to work every day and show that I'm a high effort, high motor guy, and I'm not going to be a liability learning the playbook. I just need to take care of what I can control."
If Sommers plays a game in the NFL, he would be the first UW Oshkosh football player to play in a game since Hal Robl played for the Chicago Cardinals in 1945, according to Pro Football Reference.
After signing his first NFL contract, Sommers said he is excited to go to Chicago to start rookie minicamp, which is May 13-15, followed by organized team activities (OTAs) before training camp begins in late July.
"It's starting to feel more and more realistic, but I haven't been down there, so I think actually getting down there will be cooler than signing the contract," Sommers said. "I'm just real pumped to get down there and get to work."