Women's volleyball opens conference play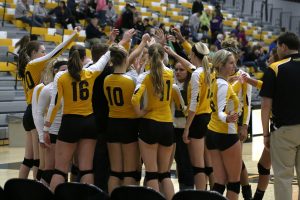 The UW Oshkosh women's volleyball team's nine game winning streak was snapped in the conference opener at UW-Whitewater on Wednesday, Sept. 21.
Despite an impressive run, with wins over Millikin University, St. Norbert College and Lawrence University earlier in the season, UWO lost in straight sets to UWW.
Coming into the match, Oshkosh was ranked 20th with a record of 11-2, while Whitewater was ranked 14th with an 8-3 record.
Head Coach Brian Schaefer said he knew it would be a tough match, regardless of recent success.
"It's a compliment to our team that other teams want to beat us," Shaefer said. "I think we've grown a lot since the beginning of the season. We've had to travel to some tough environments, and we had to go to Whitewater. That put us in a position to give them our best effort."
The Titans put up a fight in each set losing only 19-25, 18-25, and 18-25. The first set, however, started a bit shaky.
The UW Whitewater Warhawks jumped to a quick 5-0 lead with a key service ace by senior Tessa Weber. Coach Schaefer quickly called a timeout to stall the Warhawks momentum. His tactic proved useful as the Titans went on a five point run aided by kills from senior Brooke Brinkman and sophomore Tina Elstner to close the gap to 9-11.
The two teams exchanged points again until UWO fell to 13-19. Once again a timeout was called. The Titans came out of the break on a four point rally with kills from senior Nerissa Vogt and freshman Shannon Herman.
It seemed as though the Titans would keep with the Warhawks as they won points back and forth, but it was a blocking error that gave Whitewater the first set.
Down by one set, Brinkman didn't let the Warhawks' lead get to her head.
"When we lose a set, or even two, I have the mentality that it's always three more sets," Brinkman said. "I have the same thought when starting a game, and it helps keep me motivated if we are down."
The tough mentality helped the Titans take the lead in the second set 4-1. The lead was quickly dissipated by three aces from freshman Elizabeth Tworek as the Titans went down 4-7. Tworek had five aces on the night. Off of the timeout, the two teams battled, tying the set three times.
UWO had a rally going after trailing 14-18, but it was squandered by two service errors. Throughout the whole match, there was a total of twelve service errors by each team; UWW with five and UWO with seven which ultimately gave the Warhawks a 2-0 advantage.
Down by two sets, the stage was set for a repeat of last year's match when the Titans were down two sets and came back to win 3-2. However, that would not be the case this year.
The third set started with a five point run by Whitewater. The run was disrupted by a pair of kills from Vogt. The set took a turn after UWO went on a three point run before a Warhawk timeout.
The Titans battled, staying with the Warhawks and winning a point off of the longest volley of the match due to an error. The energy after the point was put away by a service error, giving the Warhawks the third set and match.
The difference in the game came from Whitewater's ten aces to Oshkosh's none and the ten reception errors made by the Titans compared to zero by the Warhawks.
Team leaders include freshman Samantha Jaeke with eight kills and two blocks, Vogt and Brinkman with seven a piece, Elstner with nine digs, and senior Lexi Thiel with 28 assists.
The Titans have faced losses before and plan not to let this one determine the rest of their season. Schaefer said he knows the potential his team has.
"When we went to Atlanta, we lost to St. Thomas by a lot, but we focused on not letting that one match define our season," Schaefer said. "It's going to be parity throughout the region and conference. People are beating each other. On one day you think that team is really struggling and suddenly they have a great Saturday. It's fun to be in our conference; it's a dog fight. I really think we are good. We just have to prove it."
Thiel said she doesn't stop to think about what the results of this match could mean.
"[We] take one day at a time," Thiel said. "Take one game at a time. You can't focus on the big picture. We need to focus on what's ahead of us and play it game by game."
The Titans look to square up with a home game against UW-Platteville on Wednesday, Sept. 28.