Volleyball defeats Blugolds at home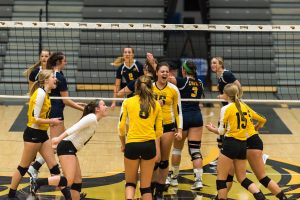 The 21st ranked UW Oshkosh women's volleyball team defeated 22nd ranked UW-Eau Claire on Friday, Oct. 7 in three sets with scores of 25-13, 25-23 and 25-16 improving its record to 17-4 overall and 2-2 in conference.
UWO is currently fifth out of eight teams in the Wisconsin Intercollegiate Athletic Conference.
Head Coach Brian Schaefer said he likes the win, but acknowledges it will still be a tough road to win conference because UW-La Crosse defeated UW-Stevens Point to put the Eagles in a first place tie with two other teams.
"We definitely want to beat those nationally ranked teams to help our chances in the regional ranking as well," Schaefer said. "Basically we are taking one match at a time and seeing how things play out with the other matches."
In the first set, the Titans raced out to a quick 9-3 lead. A six-point run was aided with kills from senior Lexi Thiel and sophomore Carly Lemke.
After a Blugold timeout, the two teams went on to exchange points back and forth with Eau Claire coming through with a quick kill to stun the Titans, as Thiel could do little to stop the ball from hitting her in the face.
In response, Oshkosh went on another run of seven points led by kills from Jaeke and senior Nerissa Vogt. After the run, the Titans had a 22-8 lead.
Eau Claire responded with a small run of their own, but kills from freshman Shannon Herman, Jaeke and Thiel put the Titans up 1-0.
Schaefer said the Blugolds were able to go on their run in the first set by finding holes in the Oshkosh defense.
"We were letting a few too many roll shots drop and were hesitant in going for them," Schaefer said. "With a younger back row you're going to have those moments where they wonder if they should go for it. As the season progresses I think they will get more aggressive."
Freshman Rachel Gardner has been playing the libero position in a majority of the matches due to the loss of Mandy Trautmann last season. Gardner said the coaches have helped her confidence this season.
"Being a freshman on the team and playing libero was a lot of pressure at first, but overall the coaches have done a really good job by putting in our heads the mindset of no matter what age or position to own your role and give it 100 percent and that's what I'm trying my best to do, even as a freshman," Gardner said.
UWO started the second set with a tie at three and then took the lead off of a block from Herman and Lemke. The Titans went on a small run to lead 7-4 with kills from Lemke and Jaeke.
Eau Claire took advantage of a Titan service error, put up a block and came through with an ace to trail only 7-6. The Blugolds tied the game up at eight with another Titan service error.
Oshkosh took the lead after tying the game at 22 off an Eau Claire timeout with a kill from Jaeke. From there, the Titans went on to win the second set 25-23 with a double hit from the Blugolds.
The Titans began the third set with a 10-4 lead as the run was aided by kills from Lemke, Herman and an ace from senior Laura Trochinski.
The biggest lead of the set came at 21-15 after a Titan ace and another double hit from the Blugolds. Eau Claire called a timeout, but the Titans closed out the set with a couple of blocks to finish the set 25-16.
Lemke tied a career high with 12 kills, hit for .478 and put up three blocks. Thiel provided 36 assists and sophomore Tina Elstner pulled through with 21 digs with Gardner recording 18.
Lemke said she came out with a better mindset against the Blugolds.
"I have been concentrating in practice to just be the best middle blocker I can be by closing the block every time and being available for every set," Lemke said.
The Titans have only three conference games left as they have to play UWSP, UW-River Falls and UW-Stout. Schaefer said the Eagles and Blue Devils, along with the Titans could be playing for their conference lives and fighting to avoid seventh place.
"We had two of the tougher teams on the road right away, but there's so many good teams in our conference," Schaefer said. "It's not a guarantee we are going to be in the conference tournament. There is a lot riding on the last weekend. We've got to take care of business. Nobody is an easy out in our conference."
Oshkosh travels to Eau Claire on the weekend of Oct. 14 and 15 to play in the Sandy Schumacher Memorial Tournament.