Women's basketball keeps cruising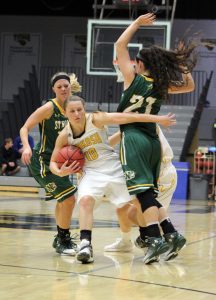 The UW Oshkosh women's basketball team is off to a 4-0 start after a 54-32 win over St. Norbert in their home opener at Kolf Sports Center on Tuesday night.
Junior forward Eliza Campbell led the way in scoring for the Titans in the win on Tuesday with 13 points. Campbell also put up nine rebounds and a steal in the win.
Titans head coach Brad Fischer said Campbell got off to a strong start in the game because of a good match-up, plus her scoring talent.
"Eliza's probably our most talented offensive player because she can score in and out," Fischer said. "She got going early and I think that got us going on that end of the floor."
The victory against St. Norbert follows two wins the Titans racked up before Thanksgiving break when they defeated Iowa Wesleyan University and Alverno College each by over 40 points.
UWO outscored those two teams 69-23 and 65-21, respectively. Fischer said the two earlier games were encouraging, but he didn't read too much into the big wins for his team.
"It's hard to tell," Fischer said. "Non-conference, especially early in the year, you don't know a lot about the other teams. You have no idea what kind of year they are going to have or how good they are. They've both been more than competitive in the other games they played, so we feel like we did a lot of good things defensively."
Fischer said his team's performance against St. Norbert could have been better, although getting the win regardless shows how good the team can be.
"If we can beat a team that I think is probably going to win 20 games, by 20 points, and be critical of it, that we didn't have to play our best to do that, I think that tells us that we could be pretty good," Fischer said. "Obviously then we've got to do the work to get better at those things."
Senior guard Taylor Schmidt scored 11 points to go along with three rebounds, two assists and three steals against St. Norbert. Schmidt said it's too early to tell if this is one of the best teams she's been on, but the Titans aren't lacking in skill.
"We definitely have the talent to do something great but each year has different players and chemistry and I think that you can't compare teams you just have to look at the talent you have now," Schmidt said.
Fischer said every team he's coached has been a little different from each other, and the defensive prowess of this year's squad has stood out to him.
"I feel like we've had a good team every year, and it's just a matter of what kind of good team it is," Fischer said. "This team has been better so far defensively than I thought we would be. I thought we'd have more offensive firepower this year, and actually defense has been the piece that's taken hold."
Fischer said the Titans won't know just how high their ceiling is until they end up in a challenging game this season.
"You don't know a ton until you face a little bit of adversity, get in a tight game," Fischer said. "I think we're a long way from really knowing how good we can be, but I definitely think we have the pieces and we have the mentality in place that could make this a really special year."
Schmidt said she agreed with Fischer about the Titans defense playing a major role in their strong start to the season.
"Our defensive effort has been outstanding," Schmidt said. "When your first three games of the year start off with holding teams in the 20's that shows the talent we have on that end."
Senior forward Alex Richard played a big part in the Titans defensive effort, blocking three shots to go along with her six points, nine rebounds and two assists.
Richard said strong defense helps the Titans stay motivated when things on offense aren't going according to plan.
"They say defense wins championships, that's well-known," Richard said. "It gives us energy, when we're not making the shots and we get down on ourselves, it's a big pick-me-up when we get those steals and blocks."
Fischer said the Titans are tough to guard because of all of their threats on the offensive end.
"If you go into the bench, I think Kylie [Moe] had eight and Emma [Melotik] had seven or so," Fischer said. "That balance is going to be huge when we start playing the best teams on our schedule."
Richard said having a balanced offensive attack makes it fun for the Titans and it also makes them dangerous on that end of the floor.
"I think we enjoy having a well-rounded team," Richard said. "It makes it harder for us to guard, and I think that's the reason we're doing so well right now."
Fischer said the Titans used speed and energy to help defeat St. Norbert, but the team went a little too fast at some points during the game.
"We talk about playing at our speed limit, as fast as we can go until we start making bad decisions and can't finish plays," Fischer said. "I thought we were trying to push it because we thought we could wear them down a little bit, which we did, but we were going a tick too fast which led to some turnovers, and some missed layups in transition."
Fischer said any UWO students who are basketball fans should come watch the Titans play, and people who have come previously tell him the games are entertaining for them.
"We're a fun team to watch and we've got kids that play really hard," Fischer said. "You've got to like defense though, if you come to watch, because we're going to try to make it really hard for people to score."
The Titans next game is on Saturday at Carroll University in Waukesha.