UWO tennis streaks to its fourth straight win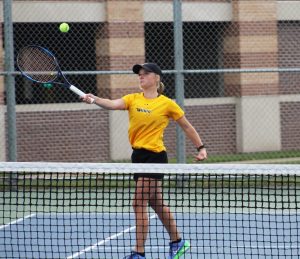 The UW Oshkosh women's tennis team is at the midpoint of its season. Having played Lawrence University on Sept. 26, the Titans are gearing up for a month of conference play leading to the conference championship on Friday, Oct. 20 and Saturday, Oct. 21.
UWO defeated Lawrence University on Wednesday, by a final tally of 8-1.
The Titans improved their record to 4-1, while the Vikings fall to 6-9.
The team has seen its fair share of ups and downs so far this season. The Titans lost their first match of the season against UW-Eau Claire on Sept. 1.
UWO then attended the UW-Whitewater Invitational the following day. The Titans placed seventh overall in the invitational with a few doubles wins recorded.
UW Oshkosh next played Marian University on Sept. 7. This was the Titans' first win of the season and resulted in starting a four-match winning streak.
At the beginning of the season, the Titans still had much to work on. Head coach Robert Henshaw was looking for a few things from his team over the summer and said the experience gained helped lead into the season.
"Mostly just match play," Henshaw said. "Experience on the court, learning how to play big points. Many of them took a step up with conditioning, [which] was big too."
Those improvements continued UWO's winning streak when it traveled to St. Norbert College on Sept. 10. There, the Titans beat the Green Knights with a final score of 8-1.
Oshkosh's record improved to 3-1 on Tuesday. The Titans had home court advantage, and defeated Ripon College in a clean sweep by a score of 9-0.
On Saturday, UWO took part in the Hope College Invitational. The Titans fared well against an array of Division-II teams in Michigan, picking up seven singles victories.
Sophomore Lesley Kutnink picked up a few of those wins in Michigan. She said her match outlook and mindset are very important while playing in matches.
"When I played my singles matches, I knew I was playing some pretty tough girls," Kutnink said. "Traditionally, my mindset was to be dedicated to staying out on the court all day and to outlast my opponent physically."
Looking forward to October, UWO has nothing but conference showdowns leading up to the Wisconsin Intercollegiate Athletic Conference championship. Sophomore Samantha Koppa is looking forward to the challenge that the rest of the season presents, and said the team has everything to look forward to from here.
"In October, I am looking forward to our team getting very competitive in our conference matches," Koppa said. "These matches are the most important along with the actual conference tournament, and it will be exciting to play in them. I think this year we may surprise some teams that we lost to last year and come out on top."
The Titans are going into October with a winning record. Arguably the team's biggest challenge will come on Tuesday when UWO squares off against the undefeated UW-Whitewater Warhawks.
The Titans are looking to improve on last season's showdown with the Warhawks. In a home match last year, UWO fell to the Warhawks by a score of 1-8.
Koppa said the team has had a very successful season so far, but the majority of the goals that were set for this year were for the month of October.
"I think we have done great so far, but most of our team goals will be achieved in the month of October because of all the conference play that we have," Koppa said. "Our goal as a team is to win the majority of our conference duals and be the top team in our conference. I believe that this is a realistic goal as long as we keep playing how we are playing in matches and practice."
Koppa said playing a full match is something she would like to get better at.
"For me personally, I think it's just making sure I can just close out that match," Koppa said. "I think I got a little shaky in the second set, but just one point at a time, I think it's very important for each game."
Kutnink said her individual goals include improving her play with doubles partner freshman Kelley Hodyl.
"Heading into October I would like to grow as a doubles player with my partner, Kelly; I think there's a lot of potential for us at three doubles in our conference," Kutnink said. "We were unable to play together in our first conference match due to injury and the mixed lineup, but going forward I think we'll accomplish great things."
Kutnink said the team is also looking for improvement in its doubles matches.
"Our team goal would be to reach stagger as often as possible in doubles," Kutnink said. "We are still a pretty young team so developing those doubles strategies is where we spend most of our time and attention; Ultimately, we would like to place third in the conference, if not higher."
Kutnink also said there are multiple events she is looking forward to as the season winds down.
"I'm looking forward to playing multiple conference matches a week and of course ending the season down in Madison at Nelson," Kutnink said. "Nelson is always an exciting time because the facility is great as well as the overall positive vibes the fans give off."
The Titans are getting into the conference portion of the season, as the team only has two remaining matches at home out of five remaining. The remaining matches all lead up to the conference championship, which will take place in Madison on Oct. 20 and 21.