Summit the Peak
[media-credit id=1 align="alignnone" width="300″]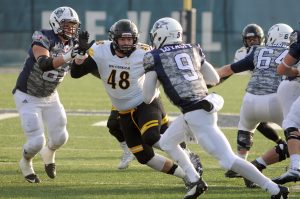 [/media-credit]
Coming off a 31-0 shutout on Saturday at UW-Stout, the undefeated UW Oshkosh Titans football team gathered in Sage Hall the next day to watch the announcement of the NCAA Division III Football Championship playoff bracket. Seconds into the show, the 9-0 Wisconsin Intercollegiate Athletic Conference champions were the first and subsequently only team from the WIAC to earn a bid into the playoffs.
This is the third-straight season the Titans have made the postseason, with two of those times coming as automatic bids for being WIAC champions in 2015 and now 2017.
Although the team has a recent history of making the playoffs, being called first was an occurrence that Titans head coach Pat Cerroni said came as a pleasant surprise.
"It was different," Cerroni said. "Usually we are waiting around, so it is kind of like it made the show go longer than I wanted it to. It's neat; I'm happy for our players. I'm really impressed with how they didn't react once they saw the team we were playing. Nobody said a word because they're just focused at the task at hand.
Lakeland is the first team we play and they're a good football team. We're not going to take anything for granted."
The Titans will face the Lakeland College Muskies, who will travel to Titan Stadium on Saturday. The Muskies come to UWO as champions of the Northern Athletics Collegiate Conference with a perfect conference record of 6-0. This will also be the third consecutive trip to the playoffs for the Muskies, who have a postseason record of 0-4.
Titans' starting senior quarterback Brett Kasper said the playoffs are a whole new season for the team. Kasper said he is excited no other WIAC programs made the postseason because that means plenty of opportunities to play nonconference opponents.
"We like to see new teams," Kasper said. "It's hard to beat teams twice. So if we were to face a conference team in the playoffs it would have its positives and negatives. But beating a team twice is tough so obviously we want to see new teams. Coach Cerroni believes that too."
Although the excitement to face new opponents is real, starting senior running back Dylan Hecker said playing in the WIAC, often considered the best D-III football conference in the country, prepares the team well.
"Playing in the WIAC benefits us," Hecker said. "We are very fortunate to play in such a good conference because the talent is so good top to bottom. So now that we are in the playoffs, we feel like we are ready for anything. We've played the best teams in the country and we play them every year."
Hecker said the Titans are viewing the playoffs as a fresh start, and with a new start comes a new perspective that the team is ready to take on.
"It's a whole new season," Hecker said. "We don't know anything about them [Lakeland] yet; all we know is that we play Lakeland and that's our main focus right now. We will find out more about them soon and then that's where we are headed."