Titans upset second-ranked Vikings at home, move to eighth in country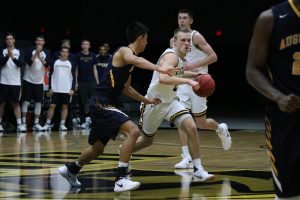 The UW Oshkosh men's basketball team earned a pair of impressive victories this past week after the Titans defeated nationally-ranked Augustana College in double overtime by a score of 95-89. UWO then defeated Finlandia University in a convincing win after the Titans beat the Lions 104-60.
Offensively, UW Oshkosh played efficiently, shooting 75 percent from the field in the first half of Tuesday's victory.
UWO sophomore forward Adam Fravert led the Titans in scoring. The big man recorded 18 points and Fravert also led the Titans in assists with five.
UWO point guard Charlie Noone played extremely well, particularly from the 3-point line, as the senior guard recorded all of his 15 points from beyond the arc. Noone was five of six from the 3-point line.
Going into halftime, the Titans were up big after hitting 8 of 11 3-pointers which aided UWO's 57-29 lead at the halfway mark.
Noone said it was great to get another win, but more importantly the victory gave the bench players more minutes. The point guard also said while offensively the Titans played well, defensively there is room to grow.
"It was great to get another win and get a lot of our guys in," Noone said. "We shot it well earlier, but defensively there is room for improvement…overall it was good to get a win."
Fravert said the Titans were expecting to play against a zone defense, and it was important for him to be open in the lane to keep the defense moving.
"Keep the ball moving … looking for any openings we can in the zone," Fravert said. "It was important for me to get in the passing lanes to help break down the zone."
The Titans finished the game off strong, outscoring the Lions by 16 in the second half to defeat Finlandia by a final tally of 104-60.
Titans upset second-ranked
Augustana College
UWO rebounded the ball well, grabbing 48 boards on the night to help the Titans defeat nationally-ranked Augustana in a double-overtime thriller by a score of 95-89.
UWO junior guard Ben Boots ensured the victory after the six-foot-one point guard scored seven of UWO's 13 points in the second overtime. Boots scored a team-high 23 points in Saturday's game and also led the team in assists with four.
UWO limited Augustana to just three 3-point field goals on the night. Each of the Vikings 3-point field goals came from Augustana forward Dylan Sortillo.
UWO head coach Pat Juckem said he was very impressed with his team's effort against such a high-caliber program like Augustana.
"I thought our guys were extremely resilient and tough," Juckem said. "It was two really good teams going at it. We have a ton of respect for Augustana."
Juckem said his team was extremely focused on their plan and came out strong and executed that plan.
"To defeat Augustana, you can't give them transition buckets," Juckem said. "You cannot turn the ball over against a team of their caliber. It's also extremely important to win the rebounding battle, which we did."
The Titans certainly took advantage of every opportunity given to them as the team scored 28 points off of turnovers compared to the Vikings only scoring 8.
Juckem said the win gives this group great confidence but now it's time to take that success further.
"We executed, we played hard, we did everything we needed to do in order to win," Juckem said. "We need to take all of this and grow even more."
UW Oshkosh will go on the road to play at Calvin College on Saturday, Dec. 9.