[media-credit name="Courtesy of Nyreesha Williams" align="alignleft" width="300″]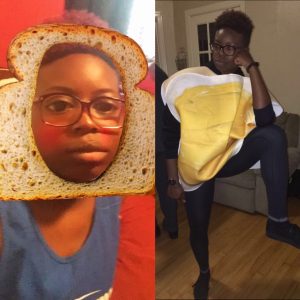 [/media-credit]
When I was young, I dreamed of going to a huge college, somewhere like UW Madison or the University of Florida. But I ended up at UW Oshkosh because it was a more affordable option. I'd never talked to an admissions counselor or toured the campus, but tuition was a fraction of the cost than those larger universities. So in 2012, I moved into Taylor Hall and UWO became my home.
If someone had told me then that I'd end up feeling a bit sad about graduation, I would've laughed in their face, because, frankly, I hated it here. I felt out of place and wondered if things would've been different if I'd searched for more scholarships and stayed closer to home.
I was seriously considering transferring after my sophomore year. But, a change of major and the fear that transferring would set my graduation date back too far prompted me to stay.
In the fall of 2014, I walked into my 8 a.m. Writing For the Media class, hoping I'd finally find the right major for me. When class began, the professor and adviser of this paper, Vince Filak, gave a lecture that beautifully framed journalism as a profession of storytelling. I left that day confident that I'd be able to pursue my passion for storytelling, even if I never wanted to be a writer. Soon after that first class, I decided to cross the threshold of Reeve 19 and start writing for the sports section of the Advance-Titan. It was, without question, the most important decision I made in my college career.
We joke a lot down here that once you join the staff, it's impossible to escape but that's exactly what happened to me. I wrote for one semester, spent two as the sports editor, one as the opinion editor and spent this last semester as the social media manager. In that time, the people became my family and Reeve 19 became my home. I've celebrated some of the best moments of my life here and mourned some of the worst. Every lesson I learned about journalism came during my time here and I was lucky enough to learn a lot about myself and life in the process. It wasn't always fun and things were seldom easy, but I know I'm better for it.
Vince, I know you're generally reluctant to accept praise but you're just going to have to suck it up for right now. When people outside of our newsroom tried to attack the A-T, you didn't run; you burrowed down into the trenches with us and fought. In doing so, you showed me what it truly means to be a leader and honorable person. I can't accurately articulate how much that means to me. Thank you for always holding me accountable and refusing to allow me to be complacent, or accept mediocrity from myself or those around me. Thank you for believing in me and encouraging me when I didn't have it in me do it myself. I'm a better writer and, more importantly, a better person for having known you.
I want to thank my mom for never letting me quit and helping me understand the nobility in perseverance. To my grandparents, your lives served as testaments to the importance of education and your continuous support never went unnoticed or unappreciated. I did this for y'all.
Finally, to my A-T family, past and present, especially those of you who were here during budgetgate 2015, thank you for complimenting my work when I deserved it and critiquing it when necessary. Thank you for pushing me to be a better writer and editor; simply being around you all inspired me. It's been an honor to tell stories and make memories with you for the past two years and I truly considered it a privilege every time my name was printed in the A-T's masthead. I love you guys and I'm going to miss you.