The end of an era: News boys move on
[media-credit id=239 align="alignnone" width="300″]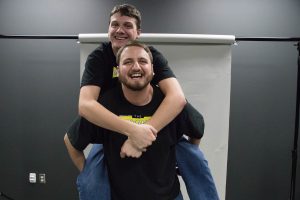 [/media-credit]
I can't decide if it feels like it's been 10 days or 10 years since I first came down to The Advance-Titan's office in the dungeons of Reeve Memorial Union, scared, with no idea what I was walking into.
When you join the A-T they tell you that you're entering a family. They say that you'll spend more time with these weird A-T'ers than you will with anybody else once you're in. It's easy to think that's not the case— "I don't know these people, this is just a job," I thought to myself after that first fateful trip.
In other words, it's easy to be wrong. Sometimes it's even nice to be wrong, which I think is the best lesson the A-T teaches anybody. I've learned a lot more from "falling on my keys" than I ever did by writing a good lede, on the rare occasion that happened.
Despite making plenty of mistakes in my time at The Advance-Titan, the first one was still the most wrong I've been about anything A-T related. I can't imagine getting a chance to work with any better people than the ones I've been privileged enough to spend my last several semesters at UW Oshkosh with. Time for some shoutouts.
Shoutout to Collin Goeman for ghosting me when I was a news editor but making up for it by making Campus Connections into a truly gorgeous, weird and badass section. I challenged you to keep on trying shit when you started, and you took that and ran with it. I'm so glad we got wood at the Herd game.
Shoutout to Calvin Skalet and Alex Thompson for making the A-T folksy again. Pour some Rumple Minze out for me while Satin and Steam plays next semester, and avoid the Outback Specials.
Shoutout to Nyreesha Williams-Torrence and Jess Zemlicka for being two of the best mentors anybody could hope for, and two of my absolute best friends. Y'all go hard both in the bars and in the group chat.
Shoutout to Vince Filak, who has managed to teach me infinitely times more in the newsroom than you did in the classroom, and that's not a crack at one of the best professors I've ever had. You taught me to stand up for what I believe in, how to tell when the juice is worth the squeeze, and how to think as an editor, among a ton of other things. Shower shoes forever.
Shoutout to Laura Dickinson, for going from one of the best damn news writers to one of the best damn news editors to one of the best damn managing editors this newspaper has ever seen. Hit a mini-dab for me next semester the first time you have to yell "HR" at somebody in the newsroom.
Shoutout to Jessica Jean Johnson. When I say I wouldn't be where I am now without you, it isn't hyperbole. You gave me literally every job I've had at the A-T, plus the use of your tiny green car so that I could take my road test and finally get my driver's license. I could probably go on, but I'll just add that from you absolutely tearing up my first-ever news article to us giving an oddly Drake-themed Northeastern Wisconsin Scholastic Press Association presentation together, working with you at the A-T was a wild, fantastic ride. I can't wait to get your response to this when you see it in a few months.
Oh, boy. This is the part the folks have been waiting for. Alex Nemec, the Mero to my Desus, shoutout to you. I can't recall the first time we actually met, or the first time we actually hung out, probably because at this point I can't remember much of anything before we became best friends. I was going to tell, or at least refer to, a few Alex and Ti stories here. Then I realized how messy we are, and thought better of it. I can only imagine how problematic your sendoff will be, considering your complete lack of chill these past few months.
Even if you'll throw out a curse word faster than any cowboy could pull a pistol, you're still one of the most thoughtful, intelligent and understanding humans a guy could ever hope to know. It's going to be so dope when you slide in at some publication and end up running it shortly thereafter. Thank you for never, ever failing to call me on my BS, and for being my biggest fan when I wasn't sure if anybody else was. We'll always have D.C.
I could probably give a few dozen more shoutouts, but unlike my taller half I don't want to lay down 2,000-plus words here. (Those could've gone towards your feature assignment my guy!) Suffice it to say I'm beyond grateful for getting to spend so much time working at The Advance-Titan, and to all of the people I've worked with in every capacity there.