Pub crawl email raises sexual assault questions
Associate Vice Chancellor and Dean of Students Art Munin sent out a campus-wide email about pub crawl, which some students have called a scare tactic.
On Oct. 6, Munin emailed students statistics on participation, sexual assault and alcohol overdoses to educate students on the dangers of the event.
In the email, Munin included data from the National College Health Assessment focusing on campus-specific questions regarding pub crawl. The report stated that 23 percent of students participated in pub crawl in fall of 2017. Munin said his goal in the email was to inform students that the majority of students don't participate.
"We have data to show how much alcohol and drugs [students] actually are using and then we ask students how much they think students are using," Munin said.
Munin said the perception from students is higher than the reality. The Oshkosh city police sends the University all the tickets they write during pub crawl so they can see how many students receive tickets and follow up with them.
"We just got it for this past pub crawl and it's only about a third of tickets that are written are for students," Munin said. "The majority is non-students."
Information on sexual assault was also included in Munin's email:
"…While all these changes are notable, some students still choose to participate," the email stated. "If you are among them, we want you to be an informed participant about common negative experiences related to participation. One such experience is sexual assault. Perpetrators can use alcohol to impair people and they target those who are vulnerable. Legally, individuals cannot consent to sexual activity when they are incapacitated by alcohol or other drugs."
The email also included NCHA data, stating "6.6 percent of students who participated in pub crawl reported experiencing sexual assault over the past year as opposed to 2 percent of students who did not attend pub crawl. The same data reported that a sexual assault was attempted over the past year for 12.4 percent of pub crawl participants as opposed to 3.5 percent of those who did not attend."
Munin said he worked on the message with the help of Health Promotions, the Women's Center, the Counseling Center and University Police.
UWO senior Mariah Heyden and junior Noelle Fenwick both made posts on social media with concerns on the email's message regarding sexual assault. Heyden's post on Facebook got over 140 likes and over 60 shares and Fenwick's post on Twitter received over 700 likes and more than 190 retweets. Based off Twitter analytics, Fenwick's post had over 50,000 impressions.
"I just didn't think he approached it in the best way that he could have," Heyden said. "He just kind of listed statistics about being sexually assaulted and that was it and there was no other background information. So it was like 6.6 percent of people who were assaulted last year also attended pub crawl. So in the 365 days someone went to maybe one or two days of pub crawl activity and somewhere in that 365 days they were assaulted. I just think that is a very weak correlation and I think it's just kind of irrelevant."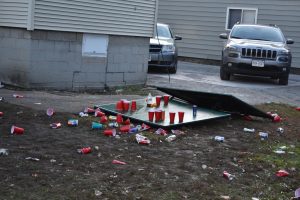 Heyden said she feels the University has a strong anti-pub crawl agenda.
"La Crosse has Oktoberfest, Madison has Freakfest, Whitewater has Spring Splash and we have pub crawl," Heyden said. "Kids are going to participate no matter what, so instead of trying to scare us out of it, you should more or less accept that we are going to do it … and just give us those safety precautions."
Fenwick said she felt the email pushed the blame on potential victims of sexual assault who choose to attend pub crawl versus those who choose to stay home.
Fenwick said she was sexually assaulted on campus her freshman year.
"It was actually someone I knew," Fenwick said. "There had been drinking, it was my own dorm room and basically I was unconscious for most of the attack. And I honestly, the next day, kind of denied it to myself."
Fenwick said she had symptoms of depression and anxiety and went to the counseling center, where she was able to make the connection to her assault.
"This summer I went to counseling every week to work on it and now I'm finally at a place where I can talk about it," she said.
Fenwick said she would have reacted the same way to the email even prior to her assault.
"After going through everything I've gone through, and healing and coming back stronger from it, I think it made me strong enough to write an email to the dean of students, which sounds pretty daunting, and to post it and share it and talk about it," she said. "If anything, it has made me more outspoken about this issue, but not more passionate."
Munin said he plans on meeting with students who contacted him about their concerns.
"I always want to see how we can further evaluate and further improve the educational advantages we put out there for students," Munin said. "Ultimately this is all about wanting to make our campus safe. And I appreciate that they're invested in that."
Munin said he is working on campus initiatives to prevent sexual assault with the Women's Center, such as the online sexual assault education module called Think About It that first year and transfer students are required to complete.
Director of the Women's Center Alicia Johnson said she suggested changes to the email that were incorporated. Johnson said Munin is a strong ally to survivors of sexual violence.
"Additionally, Dr. Munin and I are working together to write a Department of Justice grant that, if awarded, would allow the university to hire a full-time sexual violence prevention professional."
Munin said the grant is $300,000 and would start an initiative for trauma-intensive care training for faculty and students. It would also further support programs on campus such as the Red Zone Initiative, which aims to prevent sexual assault, specifically during the first six weeks of the school year, or the "red zone," when a disproportionate number of sexual assaults take place.
"We hope to be submitting that grant application in early 2019," Munin said. "There are educational ventures that are continually ongoing. First and foremost, we try to educate people on the nature of consent because it is ultimately the responsibility of perpetrators to make sure that they are not perpetrating. And if those perpetrators are UW Oshkosh students, they need to understand the consequences, which is you will not be a UW Oshkosh student if you are found responsible. Being here is a privilege and we need to be respectful of everybody in our community.""