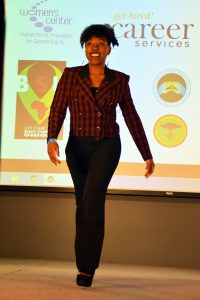 On Friday night, UW Oshkosh hosted one of its Titan Nights in Reeve Union with a variety of activities including bingo, an escape room, a fashion show, crafts, movies and more.
Throughout the night, the students who attended were provided refreshments and chocolate lava cake with ice cream, and at 11 p.m. they were offered chicken tenders and ice cream sundaes.
Before the event started, students were already lining up at the check-in to get started with the activities, talking and laughing with their friends while figuring out which stations they would go to next.
During the event, students continued to move from activity to activity to get the full experience.
In the theater, the 2016 movie "Blair Witch" was shown with free popcorn and soda.
In the concourse area, students could make emoji pillows and bobbleheads with their own faces.
The Marketplace hosted a variety of Mardi Gras themed crafts, including DIY Jester Hats, Make- Your-Own-Mask, glass etching and a photo booth with purple and green accessories.
Music was played overhead and groups of people sang and danced along with it while working on their crafts.
Sophomores Lisa Rekoske and Angela Pesavento both enjoyed the Make Your Own Mask and spent most of their time decorating and perfecting their masks.
Upstairs in the ballrooms, a fashion show showcased different fashion styles, including women's pantsuits, jeans and African-American hairstyles in the modern workplace.
Next to the fashion show was an escape room that students could try with a 10-minute limit for each group.
The escape room was a popular activity all night with at least two or more groups waiting outside to take their turn.
Senior Sam Law-Gotich and her friends were one of the first groups to attempt the escape room.
"It was fun. It was easy but challenging at the same time," Law-Gotich said. "One clue was challenging. It took us the entire time to finish."
Law-Gotich said they would love for future Titan Nights to have some type of event involving lasers, such as laser tag or a laser maze complete with neon lights.
Downstairs in Titan Underground, students participated in several rounds of bingo.
Senior Sam Kling said she always attends Titan Nights and enjoys playing bingo most out of all the games and activities.
"I am an avid goer of Titan Nights," Kling said. "They're kind of silly but it's so much fun especially if you're with the right people. And I always win at Bingo so that's nice too."
Kling also liked when they would do the photo booths where the pictures print out right away because it's always a special way to remember fun nights.
Sophomore Maizie Wilharm also said Bingo was her favorite event of the night.
"I really liked the caricature so I guess face painting would be nice," Wilharm suggested for a future activity.
If you missed out on this Titan Nights, there is still one more before the end of the semester. Don't miss out on the exciting event which will take place on April 7.