UWO student finds comfort in performing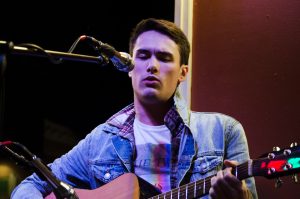 Senior John Casper dedicates his time outside of school to playing and creating music, a passion of his since childhood.
Casper first learned how to play music when he took piano lessons at age 3 but he didn't get into music until he was in fifth grade.
He said he didn't even listen to the radio much and didn't know anything about music until around Christmas when he asked for a guitar.
"I said, 'For Christmas, mom, you should get me a guitar,'" Casper said. "And she did. She got me a guitar and an amp."
That same year, his grandparents gave him a small Casio keyboard and from there he taught himself how to play piano and guitar over the next several years.
"I got good at it over years," he said. "I sucked at it at first. Like anything, you need to practice."
He currently plays piano and guitar, and can play bass as well since it plays almost like a guitar.
Casper said it's difficult to pin down who or what inspired him, since his music tastes have changed since he started playing.
"I grew up on country," Caper said. "I'm not country though. Then all of a sudden I heard Green Day on the radio and that was pretty neat, but I was already playing guitar at that point. I don't listen to Green Day anymore though."
Casper said the song that truly inspired him to pursue music was Avenged Sevenfold's "Dear God" when he was in seventh grade.
"That got me into metal music, which got me into really hardcore, emo-screamo sort of stuff," Casper said. "I had that emo phase – still kind of on that phase – but I love that music."
This new kind of music ignited the spark for him to explore other genres such as ambient and other artists like Halsey.
Casper said his biggest inspiration is his old guitar teacher because he taught Casper more music theory than just guitar, which helped him improve quicker.
"I went to him and was like, 'Teach me how to get better at understanding what music is,'" Casper said. "I would then use that to incorporate into playing guitar and piano which helped."
Along with teaching him guitar and music theory, his guitar teacher introduced him to different bands.
"I was probably sixteen at the time, and when you're sixteen you don't really have people that listen to a lot different music," he said. "People just listen to stuff on the radio. He was in his thirties at the time so he's been in the music business for a long time."
Casper said his instructor used his music experience with many bands and tours to open Casper's eyes to different things in the music world.
Casper's lyrical inspiration, however, doesn't come from a person; it comes from things he sees everyday.
"I'll have songs where it'll be about someone else's perspective but in the eyes of me," Casper said. "So I'll pretend the story is about myself but it's really about Billy Bob over there. My friend could be going through something and I could see something on the street that could inspire me to write a song about it."
He said he thinks everything is an art, and if others do too then they will be more successful and creative as a result.
Like many other students on campus, Casper enjoys playing at the Open Mic Night every Tuesday at New Moon Café.
He first performed there at age 16 and has been going back ever since. It was there that he played in front of people for the first time.
"I was so nervous because I hadn't sung in front of anybody before," he said. "I got there, I was shaking. It was like I was on a bunch of caffeine I was so nervous."
Casper said performing at New Moon Café has helped him become more comfortable playing music in front of a crowd, and he also enjoys the atmosphere of the café itself.
The music he plays at New Moon is more acoustic, while he considers the music he plays with his band, Everything Went Silent, to be in the emo-screamo type of genre.
"It's very emo-screamo, hardcore sound stuff," Casper said. "My mom hates it."
Casper said the band has released some of their own music and has also created a few music videos.
"And we actually filmed a music video for a song called 'Parallels' which I think is one of our best songs," Casper said. "It was filmed in a basement and we covered the walls in paper so it has this cool white background to it."
Everything Went Silent will be playing gigs in the summer as well as releasing an album in June.
The band can be found on Twitter, Facebook, and Instagram.