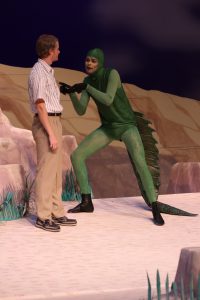 UW Oshkosh's theatre department performed its first production of the year, "Seascapes" by Edward Albee over the weekend.
"Seascapes" is a play about Nancy [Kellie Wambold] and Charlie [Garret Johnson], a couple that has recently moved into the retirement phase of life. Nancy wants to do new and exciting things, but Charlie wants to sit and do nothing.
The couple is spending the day on a quiet beach when they meet a young couple, Leslie (Parker Sweeney) and Sarah (Mary Clementi), who show them what they have lost. The young couple, however, is a pair of green sea lizards.
Despite the young couple being lizards, they are still able to teach Nancy and Charlie as well as learn from them.
Throughout the performance, the audience reacted with laughter to lines regarding past occurrences in Nancy and Charlie's marriage, which has lasted many years.
Students involved in the production practiced three hours a day, five days a week since the day before the start of semester to prepare for the show.
Junior Parker Sweeney, who plays the part of Leslie, said he has always been attracted to performing.
"Ever since I was a child I loved to perform and make up stories at a very excessive level," Sweeney said.
Sweeney said he auditioned for this play, not only because of his major, but also because of the choice of play.
"Other than being a theatre major, I auditioned because I'm a fan of Albee and absurdism," Sweeney said.
Sweeney has been involved in many productions at UWO, including, but not limited to, "All My Sons," "And Then There Were None" and "Our Town."
Sweeney said he thought the show went well and that he enjoyed his time on stage.
"I think the show went amazing, but really it's up to the audience to decide that," Sweeney said. "But at the end of the day, I have a great time on stage and that's really all I can ask for."
Junior Maggie Clementi plays Sarah, and said she auditioned for the play because she really wanted to play the part of Sarah.
Clementi has been involved in five productions at UWO, "Our Town," "Graceland," "Trifles," "All My Sons" and "And Then There Were None."
Clementi said she credits being involved in high school for getting her interested in theatre.
"I did stage crew, props and ran flies in high school," Clementi said. "It was my favorite part of being involved in high school."
Clementi said she thought that this show, along with past shows, was a success due to the cast working well together.
"Each show in and of itself is a different experience," Clementi said. "However, I feel as though every show has been a success, as the cast works really well together and there's a sense of family and togetherness that comes naturally after working with one another so often."
This play was junior Conner Zornow's first UWO production as stage manager, and said despite the stress that comes with the position, everything worked out as he imagined.
"It was enlightening, as well as hectic," Zornow said. "I did not fully appreciate the work a stage manager puts into a production before this show."
Zornow said despite a lack of experience in the backstage crew, he believes the fresh faces rose to the challenge.
"We had an almost entirely new deck crew, a new stage manager, a new costume designer and a director that was experiencing being the department chair for the first time," Zornow said. "This all culminated in a remarkably well-made show given the circumstances. . . We did well with what we were given."
UWO Theatre Department's next musical, "The Fantasticks," will be performed the weekend of Nov. 16 to Nov. 19.