Smooth-as-ice local band heats up campus crowds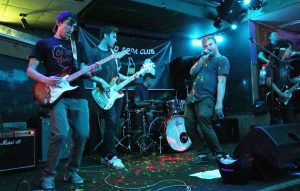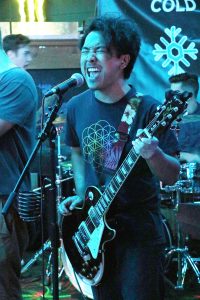 Local five-man band Cold Soda Club is slowly but surely gaining attention after playing many shows in the Fox Valley area over the past few years.
The members of Cold Soda Club include two of UW Oshkosh's own; lead guitarist Trevor Damkot and drummer Lucas Goebel. Other members include lead singer Tyler Maxon of Sheboygan, and Madison residents bassist Matthew Theobald and rhythm guitarist Yeekeng Yang, who also serves as keyboardist and backing vocalist.
Though the band has been together for roughly six years, both Goebel and Damkot say the group is at its peak, yet refuses to stop climbing.
Though the members currently hail from different locations, the group formed back in 2011 while all five members were attending Sheboygan North High School.
"Matt and I had a few jam sessions together and then got Yeekeng to come on board, who was in a different band at the time," Damkot said.
Yang said he was excited to join a more committed band compared to the one he was in previously.
"The band I was in wasn't very serious and hadn't practiced in a while," Yang said. "One day Matt, Trevor and I jammed together and it just clicked."
During band's early years, Maxon and Goebel were added to the equation.
"After about three years, I came to join the band and then Tyler came to join soon after," Goebel said.
The band's catchy name was inspired by the sight of a bar with an interesting sign displayed
"There was an old bar that had one of those signs where you put the letters up individually and it just said 'Cold Soda' so we thought that was cool," Goebel said. "From there we took a picture and put it in our group chat and it stuck."
Both Goebel and Damkot said they have a wide variety of influences.
"As a band, our biggest influence would have to be The Beatles along with other contemporaries such as the Foo Fighters and Royal Blood," Goebel said.
Damkot also expressed his love for the Red Hot Chili Peppers.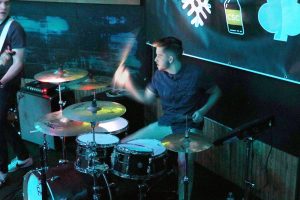 "I've seen the Chili Peppers four times," Damkot said. "They're a huge influence for me."
When asked about the songwriting process, the band responded that they work as a cohesive team with no member being more of a leader than the other.
"It's a big group effort. Someone comes in with an idea and we just build off of that idea," Goebel said. "Sometimes we'll get an idea from the initial idea and run with that."
Though the band seems to perform live effortlessly, they confessed being in a band isn't always the easiest thing.
"Having to balance school-work with writing and playing shows can be a real struggle," Goebel said.
Damkot also chimed in, saying the distance can also be a major issue.
"It's especially hard trying to write new music when all five of us don't live in the same location and we have to find a specific time and location to meet up," Damkot said.
After being together for six years, Goebel said Cold Soda Club has experienced a lot of growth.
"We've seen a gradual change other the years, from stage presence to overall band chemistry," Goebel said.
Damkot said the band shares immense chemistry both off- stage as well as in a live setting.
"Sometimes Yeekeng and I call out covers when we're performing on the fly and about 75 percent of the time we're both thinking the same song to perform," Damkot said.
After being together for as long as Cold Soda Club has, Damkot said live shows are meaningful to him.
"My favorite thing about performing live is when people have a connection to the songs that we play," Damkot said.
"I love just having the interaction with the crowd and seeing how they respond to us playing," Goebel said.
Last June, Cold Soda Club played a show at Hody Bar in Middleton, which Damkot said held a special spot in his heart.
"Playing at Hody Bar was my favorite show because the crowd was absolutely wild," Damkot said.
Goebel said his favorite show happened just a couple weeks back.
"We played French's in Oshkosh and it was cool to have an audience of people there that were mostly our age," Goebel said. "It was a great environment."
Cold Soda Club has its sights set on some incredible things in the coming future.
"Ultimately, I'd like to be able to play music exclusively," Damkot said.
Goebel also had high hopes for the band's future.
"We'd also like to continue playing shows while hopefully someday making an appearance at The Rave in Milwaukee, while also releasing an album too," Goebel said.
Cold Soda Club is slated to play a repeat show at French's in Oshkosh on Oct. 27 at 10 p.m.
Cold Soda Club's music can also be found on Spotify, Apple Music, Soundcloud, YouTube and on its website coldsodaclub.com.
Yang said more than anything, he appreciates the bond that comes with performing together with a group he is close with.
"We all know each other well so we have a good chemistry during practice and gigs," Yang said. "My favorite thing about being in Cold Soda Club is that we're all best friends."