Miss UWO raises money for Christine Anne Center
The fifth annual Miss UWO pageant brought four contestants to the Reeve Union Ballroom stage last Thursday to increase awareness about domestic violence and raise funds for the Christine Ann Domestic Abuse Center.
Members of the Beta Theta Pi fraternity coordinated the pageant in partnership with the Christine Ann Center.
According to Beta Theta Pi member and Miss UWO Event Coordinator Jake Wallner, the Christine Ann Center is Beta Theta Pi's main philanthropy, and members often dedicate their time volunteering at the center.
"We're really close with them, and many of us are on a first-name basis with a lot of people that work there," Wallner said. "They just love to see us there, and we just love to help out."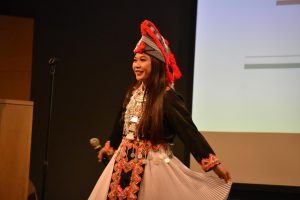 Carly Hirsch, who served on the judges' panel and is also the volunteer coordinator at the Christine Ann Center, said she works directly with the volunteers that come to the Christine Ann Center, and they have a strong relationship with Beta Theta Pi.
"Their focus is on domestic violence, and they've adopted the Christine Ann Center as kind of their primary focus in terms of where they volunteer their time and contribute back," Hirsch said. "Therefore, we certainly want to have representation here to support that."
Wallner said the event raised just over $1,000, which included donations from raffle prizes, door prizes and contestants raising money.
"The main goal is to just raise as much money as we can for the Christine Ann Center, and we did," Wallner said. "We raised as much as we could."
UWO senior and Zeta Tau Alpha sorority member Eve Jewson won the pageant after three years of competing.
"My big [sister] in my sorority actually did Miss UWO and won it the year before I came in the first time," Jewson said. "But the bigger part of it is the conversation that surrounded it, and that was very, very impactful for me."
Jewson said she was shocked when it was announced that she won, and she thinks the other contestants did really well.
"I was really surprised, and I was really humbled by it," Jewson said. "I just appreciate everything from the audience and all of the judges there."
The evening began with a spirit portion in which contestants had to show off their UWO pride and tell the audience about their involvement on campus.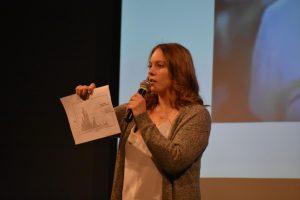 Contestants then had to show off a talent, which featured singing, dancing and a Vine compilation reenactment.
In between categories, a representative from the Christine Ann Center took the stage to give a presentation on the services the center offers.
Hirsch said she hopes the audience took away a better understanding of Christine Ann and the services they offer.
"Even if they're not directly experiencing abuse, they have a resource for friends and family to talk about domestic violence and to really gain a broader perspective on what that looks like," Hirsch said.
Finally, the contestants were asked a series of questions that concerned opinionated, personal and statistic-based matters questions as part of the Q&A and formal attire portion.
Sarah Averkamp, the development director at the Christine Ann Center who also served on the judges' panel, said she was very impressed with the responses the women had to their questions.
"I thought they had really just some insightful awareness about things that need to happen within our community in order to bring awareness, to bring open dialogue, to bring education and to actually make a difference on what our world looks like in the future in terms of how the face of [domestic violence] looks for all of us," Averkamp said.
Wallner said the contestants were given a question containing a statistic about domestic violence in advance so the contestants could help educate the audience.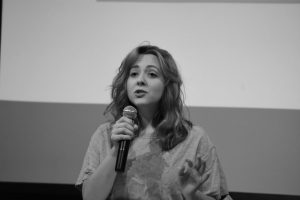 "Domestic violence is not okay," Wallner said. "It's obvious and simple. The main purpose of the event is just to make the audience aware of statistics."
Wallner said it takes months to plan a large-scale event like Miss UWO.
"The main thing is getting sponsors because it's all donated stuff," Wallner said. "So that starts during summertime; just calling up places around Oshkosh and getting vendors to want to contribute to the cause whether it's just door prizes, silent auction items or catering, which we needed too."
Averkamp said she is grateful that she and other employees from the Christine Ann Center were invited to the event.
"This really was an enjoyable evening and a lot of fun, and I was just very impressed by the crowd and the enthusiasm," Averkamp said.
Jewson said she encourages everyone to continue supporting events like Miss UWO.
"You can get up and show up and take an hour out of your night to attend an event," Jewson said. "You don't have to be the person in the spotlight, but just go and show support for other people."
Jewson also said donating any amount of money can make a world of difference to people who are struggling.
"Just any little thing helps," Jewson said. "You think it's little but it's really not; it's making a monumental difference. So, attending and supporting those events and the people participating in them, sharing things on Facebook, getting the word out and being comfortable with having uncomfortable conversations, I think, is super important in order to make change in our society."
Jewson also said that if anyone is struggling in an abusive relationship, they should talk with someone they trust and utilize the resources at the Christine Ann Center or on campus.
"I am always here as someone that you can talk to regardless of if you know me or not," Jewson said.