Hintz talks about UW future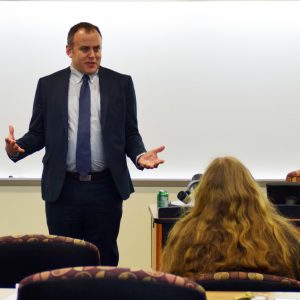 Rep. Gordon Hintz discussed his political history and current work with the state assembly with graduate students in Sage Hall on Monday as part of the Graduate Student Association speaker series.
Graduate student and GSA member Danica Kulibert said hearing a local government figure like Hintz talk about today's issues is valuable due to the nature of many UWO graduate programs.
"As part of GSA we met to discuss what kind of speaker would be good to bring on campus, and due to the current political climate we thought someone in local government would really draw more people in," Kulibert said.
Graduate student Aaron Bagley said listening to someone like Hintz, who is so active in our government and our university system, was a great opportunity.
"Hintz is a local figure, and a very prominent one," Bagley said. "He's our voice in the government, he represents us, and it was an honor to come here and listen to him speak."
Hintz talked about his path to becoming the 54th district representative, as well as what he does as part of the joint finance committee which he has served on for the past two years.
"The biggest thing that we do every two years is the state budget," Hintz said. "It's a pretty incredible experience because you get to see everything that state government does."
Hintz said the biggest portions of the budget he works on include education, medicaid, corrections, the UW System and transportation.
Hintz said one of the most important issues he has dealt with recently is the transportation budget.
"When you live in an area like ours that produces a lot of goods, you need to have a strong infrastructure system," Hintz said.
Hintz said the gas tax is usually used to cover these expenses but has been too low recently due to a tax freeze, as well as fuel efficiency, inflation and rising construction costs.
"Governor Walker has been committed to not raising taxes, but the cost of that has been that we have to do a lot of borrowing," Hintz said.
Hintz said this borrowing has led to projects all across the UW System, such as the second part of the Clow renovation, to be delayed due to lack of funds.
"Projects like Clow aren't getting funded because we're spending those funds on things like highways," Hintz said.
Hintz said when he was a part of the state building commission, it was important for him to see UWO building projects completed and continue to improve.
"My goal early was to help Oshkosh, including this University," Hintz said.
Hintz said it is difficult for government to function in the modern era due to the diversification of opinion among citizens.
"Two of the big challenges to my job, and democracy in general, are definitely the communication and the divide," Hintz said. "I'll knock on 20 different doors and they'll have nothing in common, I'll say, 'What's on your mind?' and they'll give me 20 different things."
Hintz said being active in politics is key to making a difference, but he sees fewer citizens participating.
"If you ask me, the biggest thing that's changed since I started has been the waning engagement," Hintz said. "I'm contacted way less than I was when I started."
Hintz said engagement is an extremely important part of our political system, due to its effect on local communities.
"You can hate politics and say it doesn't matter, but your profession or community is probably impacted or affected in some way," Hintz said. "I've always been somebody that tries to reach people and tell them to find a way to make it relevant because democracy requires engagement."