Alumnus shares Hurricane Florence story
After Hurricane Florence wreaked havoc on North and South Carolina, residents like UW Oshkosh alumnus Zak Thompson said he faced and continues to face obstacles brought on by the storm.
According to Moody's Analytics, the hurricane has caused between $38 billion and $50 billion of damage and economic losses, making it among the 10 costliest hurricanes.
Thompson, who graduated from UWO with a degree in journalism, now lives in Raleigh, North Carolina, working as a strategist for a branding agency called Clean.
Though the hurricane ended up missing Raleigh, Thompson said early forecasts had locals scrambling for supplies.
"Initially the path showed it going straight through Wilmington where it was going to make landfall and then go to Raleigh, and they were talking about bringing, like, anywhere between 10 and 20 inches of rain," Thompson said. "They were talking about widespread flooding. We could be without power for weeks, so when that happened, everybody kind of freaked out. I mean, gas stations were out of gas completely. The ones that did have gas, I heard some cases when there was, like, a 45-minute wait to get to a single pump to get gas."
Thompson said the shortage of supplies sparked fights between people.
"There were people honking and fighting each other to try and get in," Thompson said. "At grocery stores and at Target or Walmart, people are fighting each other for the remaining cases of water and to get their bread and milk."
Thompson said the town is still working on restocking supplies since the pre-storm hysteria.
"You go to a store and it kind of looks like a post-apocalyptic scene where just like everything is ravaged," Thompson said. "And I mean even today because what happened at the gas station by my house still doesn't have any water or bread left, like the shipments haven't made it there and they're still out."
Thompson said that though the hurricane had missed his town, he works closely with clients who were affected by the storm.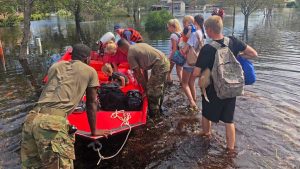 "We work with the Wilmington CVB, which is the tourism authority there, and they are trying to promote the overall destination, so Wilmington, the city, and then the three beaches that are associated: Wrightsville Beach, Carolina Beach and Kure Beach," Thompson said. "So we'll come up with the campaigns for each of those destinations, and we're responsible for driving people there and to increase the amount of people that are going to the beach and staying in hotels."
Thompson said the damage to the Wilmington area has forced Clean to put its work on hold.
"You can only do so much," Thompson said. "I mean, the town is really going through a lot, and it's still flooded, and they still don't have power, so you can't have digital ads or a campaign trying to send people there during this time. So it's like you have to be proactive and think through pausing campaigns."
Thompson said his main takeaway from the experience was to trust the advice of officials
"Even if something like this happens where the storm's trajectory completely shifts and it doesn't affect you like you thought, you still have to prep like it is going to be that bad because you truly never know," Thompson said. "And being over-prepared is all right. You know, I went and I got a whole bunch of water and canned goods. I'll eat them eventually, so it's like it doesn't hurt to have those things on hand just in case. You truly never know."