ROTC cadets ruck for suicide awareness
According to the United States Veterans Affairs department, 20 active service members and veterans commit suicide every day. This equates to around 6,132 veterans and 1,387 service members who take their lives annually.
On Saturday, 15 cadets from UW Oshkosh Reserve Officers Training Corps marched 20 miles carrying 20-pound rucksacks to honor those lost by their own hand.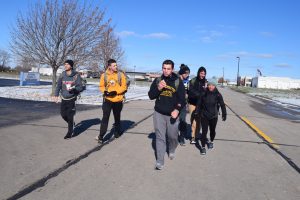 People from across Wisconsin attended the fourth Helping Out Our American Heros Wisconsin's 20 Mile Veteran Suicide Rucksack March to raise money for suicide awareness and prevention for veterans and individuals still serving. This year, the Rucksack March was held at the KI Convention Center in Green Bay.
Jacob Banfield is one of the 15 UWO ROTC cadets who attended the Rucksack March on Saturday.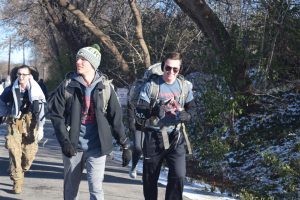 "[The Rucksack March] means a whole lot to members of our armed forces currently serving because money raised goes towards helping current armed service members and veterans who have served our country to the highest degree," Banfield said.
According to Banfield, the Fox Valley Battalion has raised over $1,000 for the Rucksack March, which will help those suffering from mental illness and suicidal thoughts.
H.O.O.A.H. Inc. put on the Rucksack March; their mission is to lend support toward deployed servicemen and women, their stateside families and returning veterans with a high level of understanding, compassion and empathy.
Melissa George is a senior ROTC member who participated in the Rucksack March. George said she feels that mental illness is overlooked, especially in the military.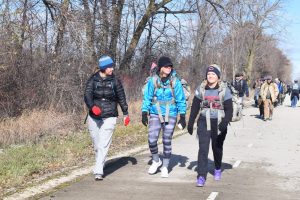 "My father and many family members are veterans, and I need to know there are resources out there for them," George said. "I am hoping to go active duty when I graduate and commission so I also hope that there are resources for me to turn to."
George said that during the event, she was humbled when she was able to network and listen to stories from veterans and their families.
"This ruck gives me access to vets and current military members, to be able to network and hear these stories of survival and loss," George said. "Hearing these stories about all the people and families affected by this epidemic is so frustrating. Mental illness needs to be talked about especially in the military community. It made me realize that this is a very huge issue that could affect me in the future."
Samantha Fassl, another ROTC member, said she was touched by a story shared by one of the speakers. Her fiancé was a veteran who committed suicide, and to honor him she completed the 20-mile march carrying his rucksack.
George said she enjoyed participating in the Rucksack March, especially when it came to bonding with fellow cadets.
"The best part of the Ruck March was looking at my fellow cadet, Jacob Banfield, and saying 'Let's race.' Banfield and I sprinted the last mile to finish the ruck," George said. "To be able to make my body sprint after 19 miles was something beyond me. Honestly, the best part was knowing I can do this."
During Veteran Appreciation Week, Nov. 10-15, the Veterans Resource Center and Student Veterans Association are hosting a series of activities to celebrate veterans.
— Thursday: The SVA is hosting a 2.2-mile suicide awareness march for the 22 (now 20) veterans who commit suicide each day. The march will start in front of Polk Library at 6 p.m.
— Friday: Veterans will enjoy a free Veterans Appreciation Lunch, hosted by the VRC from noon to 2 p.m. in Dempsey Hall, room 130. "