10 student orgs receive over half of SAC funding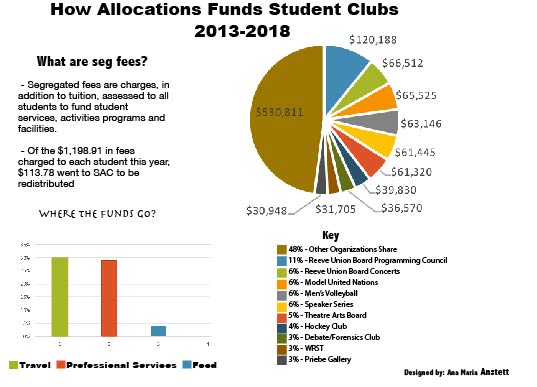 Ten out of the more than 150 student organizations at UW Oshkosh received over half of the total Student Allocations Committee funds over a five-year period.
The Advance-Titan reviewed more than 700 pages of SAC budgets from 2013-14 to 2017-18 and found that 10 student clubs were allocated a combined average of $577,189 annually, which is 52 percent of the $1.108 million allocated per year on average.
The top 10 and what they averaged annually in allocations included:
— Reeve Union Board Programming Council – $120,188
— Reeve Union Board Concerts – $66,512
— Model United Nations – $65,525
— Men's Volleyball – $63,146
— Speaker Series – $61,445
— Theatre Arts Board – $61,320
— Hockey Club – $39,830
— Debate/Forensics Club – $36,570
— WRST – $31,705
— Priebe Gallery – $30,948
UWO has about 163 Oshkosh Student Association-recognized student organizations on campus. SAC is the student committee responsible for distributing student segregated University fees to organizations that request funds. The Advance-Titan is one of the student organizations that has received SAC funding in years it has been recognized as a student organization, including four out of the last five years, according to the Office of Finance and Administration.
Segregated fees are charges, in addition to tuition, assessed to all students to fund student services, activities, programs and facilities. Of the $1,198.91 in fees charged to each student this year, $113.78 went to SAC to be redistributed.
Travel and professional services combined made up at least 60 percent of the allocated funds that were spent over the five-year period. SAC Controller Leo Spanuello said the reason these two categories receive so much of the funds is because they include many events and activities.
"Travel has given groups the ability to go to museums, conferences, competitions, field trips that interest that specific group," Spanuello said. "Professional services give the ability for groups to bring in speakers for the campus to enjoy and provide knowledge and insight that would otherwise be more difficult to convey. There is also the concerts that are put on for the campus to enjoy, in addition to the many other presentations that are paid for through SAC."
Segregated Fee Committee (SEG) Adviser Jean Kwaterski said although the SEG committee controls how much SAC receives, how those funds are dispersed is entirely up to SAC.
"The amount the Segregated Fee Committee approves is usually based on how much they can afford," Kwaterski said. "We try not to increase the overall seg. fee by more than 2 to 3 percent each year, if at all possible. So, we look at all the units we fund and try to keep the increase at a minimum."
To apply for funding, organization leaders must complete and submit annual paperwork to become an OSA-recognized student organization as well as submit a yearly budget to SAC by November of the previous year. The committee then meets to deliberate the submitted budgets at the beginning of each spring semester.
Spanuello said when organizations receive less funds than requested, it's because their budgets violate the Policy and Procedure Manual or PPM, a document that outlines all the rules and criteria clubs must meet to qualify for funding.
"Common mistakes include the number of members SAC can fund on travel trips," Spanuello said. "Others include food events that are limited to $5 a person and up to two food events a year."
While all organizations can receive funds for travel, Spanuello said organizations that seek funding for noncompetitive travel are subject to more restrictions than those who seek funding for competitive travel.
"The competitive travel exception was made because limiting competitive groups to a certain headcount would render some clubs unable to participate in any capacity," Spanuello said. "A good example would be Model UN because they need to send a full team to compete. The rule was established years ago, and the rationale is that competitive organizations can represent the University as well as add prestige to the academic achievement of students."
Spanuello said out of the 163 OSA-recognized student organizations, about 65 organizations, or 40 percent, don't apply for funding from the SAC.
"Some groups don't need funding," Spanuello said. "Groups benefit from being recognized because they have voting rights at assembly. Other groups cannot request funding because their membership is exclusive to only certain people on campus."
Spanuello said as long as student organizations follow SAC's guidelines, they can expect to see their budgets approved in full.
"SAC is a viewpoint-neutral committee," Spanuello said. "If the group is recognized by OSA and attends all required meetings and deadlines, [has] membership open to the entire campus and follows the PPM, the group receives exactly what they ask funding for. The committee just discusses whether or not the budget follows the PPM."