UWO closes twice in the first two weeks of spring semester
Due to unsafe driving conditions on Feb. 7 and 11, classes and events on all three UW Oshkosh campuses were canceled, meaning that classes have not met on two of the seven days the semester has been in session.
While many students seemed to enjoy frolicking in the snow on their day off, these snow days pose a unique challenge for course schedules, specifically the classes that meet on Tuesdays and Thursdays.
Classes were canceled on Feb. 7 due to unsafe driving conditions resulting from the wintry mix of precipitation the area received. On Tuesday, the city of Oshkosh declared a snow emergency after receiving between eight and 12 inches of snow throughout the day. A winter storm warning was issued both days.
UWO senior Tristin Terry said she was excited to have a snow day but shared concerns with missing classes.
"I am always happy to have a day off, but my three-hour class was canceled, which technically means that we missed a week of class," Terry said. "This is my final semester and I am taking a 400-level class. I am worried that I will be missing out on vital information or that we will end up cramming more content into each class since it was canceled."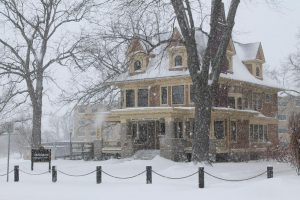 UWO senior public relations major Mariah Heyden explained that students in the public relations campaigns class face a similar struggle.
"Our public relations campaigns class is only in session for seven weeks on Tuesdays and Thursdays, and we are working with a real-life client," Heyden said. "Having two snow days on the days we meet for class has greatly impacted our work days and overall campaign. It will definitely be crunch time when we get back in action in our next classroom meeting, but I guess that's the thrill of it all."
Geology professor Eric Hiatt's sedimentary petrology class that meets once a week was canceled on Thursday. Hiatt does not plan to cut content from his course schedule, as he uses D2L to keep classes on track.
"I don't remember having so many snow days over the 19 years that I've been at the University," Hiatt said. "I like snow days because I can work on my research with my students."
The UWO facilities management staff has worked around the clock to clear sidewalks and parking lots to make traveling on campus safe. On Tuesday, the maintenance team began snow removal at 2 a.m. and ended around 4 p.m. The University also asked for students to volunteer to remove snow around the Rec Plex.
Terry said she thinks lives are more important than forcing students to try to get to class in bad weather conditions.
"The professors, staff and commuting students didn't have to choose between their safety and and making it to campus thanks to UWO canceling," Terry said. "I really appreciate the diligence shown by the school taking care of their students and the maintenance crew for working so hard to make campus safe for us."