Women's volleyball defeats Pioneers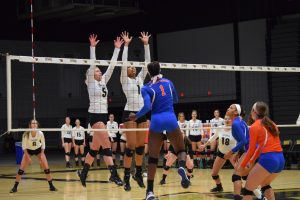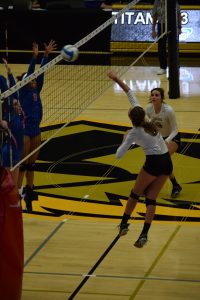 The UW Oshkosh women's volleyball team rebounded after the conference loss to UW- Whitewater to win in straight sets over UW-Platteville on Wednesday, Sept. 28 improving its overall record to 12-3 and conference record to 1-1.
The Titans got off to a quick start this week as they took the first set from the Pioneers 25-20 while many players contributed to the effort. Freshman Samantha Jaeke, senior Brooke Brinkman, senior Nerissa Vogt and sophomore Tina Elstner had multiple kills.
However, the first set was closer than the score showed.
The Titans and Pioneers tied the match seven times, as late in the game as 12-12. That's when UWO went on a five point run to pull ahead 17-12, even after two time-outs from UWP.
Last week, the Titans used time-outs to stall the Warhawk momentum, but this week Platteville's time-outs did little to stop the energy.
The Titans' offense, aided by kills from Elstner, Brinkman, and Jaeke, propelled them through to win the first set.
The second set began with a small run by the Pioneers, who went up 4-1. The momentum shifted after the Titans won a point after a long volley. From there, Oshkosh took over with aces from freshman Samantha Jaeka and Rachel Gardner.
Brinkman said she was excited about the aces while also recording one herself later on in the match.
"It was great, honestly," Brinkman said. "It gets us going and gets us motivated. It's fun."
The rest of the set went rather smoothly besides a couple of service errors.
Head coach Brian Schaefer said they worked on serving in practice because of their seven servises errors last week.
"We aren't the hardest serving team, so it's definitely a focus of ours because blocking and offence are probably our top two things," Schaefer said. "That means we have to balance those and our serving and defense. We have to buckle down. Everyone can serve a ball over the net. It comes down to focus. The ones that go ten feet wide or jump serves into the net, they can fix that themselves."
The offense of the Titans compensated for some troubles serving and defending as the second set ended with a kill from Brinkman.
When the Titans got ahead by two sets, Vogt said there is a different mentality to the game and they relax and play looser.
"You can let loose a little bit and that's when you have the most fun," Vogt said. "You have that confidence behind you; you can let your hair down and just play volleyball. When we have two wins under our belt, I get so crazy, I become a mad woman on the bench. The stress is gone. We play better relaxed."
In the third set sophomore Renee Rush assisted the Titans with five kills. In combination with other kills from Brinkman, Elstner and Jaeke, the Pioneers had very little response. They were also plagued by two illegal rotations.
Ahead 23-14 in the third set, the Titans called time-out. Rather than disrupt momentum, Vogt said the objective was to discuss what was working and the team likes to talk about what is working well.
"When things are working, we reiterate what is working," Vogt said. "This works, this works, and this works, keep doing it. We leave it at that. Sometimes too much talking is detrimental. It keeps our mind set sustained."
The Titans defeated the Pioneers 3-0 with scores of 25-20, 25-18 and 25-17.
Multiple players contributed to the win. Elstner had 13 kills along with nine from Brinkman and eight from Jaeke. Senior Lexi Thiel lead the team with 31 assists. Both Jaeke and senior Laura Trochinski had two aces, and freshman Rachel Gardner had eight of the team's 31 digs.
In comparison to last week, Schaefer said the difference came from the energy.
"The bench was involved and the people on the court were hyper," Schaefer said. "We embraced our crowd. Last week the loss was more internal as opposed to Whitewater being that good. They are good, but so are we."
The Titans go into their invitational with four games over the weekend on Sept. 30 and Oct. 1