Volleyball defeats Pointers at home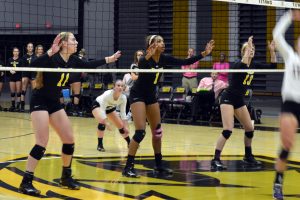 The UW Oshkosh women's volleyball team defeated UW-Stevens Point after capturing three of four matches over the weekend in the Sandy Schumacher Memorial Tournament at UW-Eau Claire.
With more than 20 wins, the Titans continue a positive trend. In the last 18 years, UWO has had a 20 win season 17 times, including the last five seasons.
Head Coach Brian Schaefer has been with the program for 13 seasons and has compiled a record of 330-108. In light of the success, Schaefer gives the credit to the girls.
"It's a testament of the girls and how hard they work," Schaefer said. "The best thing about our record is that we have a really strong schedule and we still have been able to have a high level of success. It has everything to do with the 18 young ladies on my team."
Senior Lexi Thiel has been coached by Schaefer for four years now and said she believes he is a great coach to play for.
"He motivates us and knows everything we are capable of," Thiel said. "He really gets to know his players."
The first set was tied up a total of 12 times and the lead changed from UWO to UWSP back to UWO. After 24 all, the Titans went on to win the first set with consecutive points.
UWO built a steady five point lead after a four point run assisted by kills from senior Nerissa Vogt and freshman Samantha Jaeke. Vogt also had an ace during the run.
Even though the Pointers responded with a run of their own, the Titans held strong, winning by a seven point margin, 25-18.
After trailing early in the set, Stevens Point rallied with a four point run to build a lead at 13-7. The largest lead came at 21-14 before the Titans seemed to be pulling back into the game.
The four point run from the Titans included an ace from freshman Rachel Gardner, a kill from Laura Trochinski, and a block by sophomore Tina Elstner and Vogt. The Pointers' lead was too much, however, as the Titans fell 22-25.
UWSP jumped out to a 1-6 lead, but UWO called a timeout and came out to tie the set back up at eight a piece. The next 25 points alternated between the two teams and shifts in the lead occurred five times before the Titans pulled away to win 25-21.
Senior Brooke Brinkman said the win will help the team finish conference play strong note.
"This is a huge win for us," Brinkman said. "After this I think we will have a lot of momentum going into the last two conference games. This will help us stay high in the conference."
Before the match the four seniors were honored; Vogt, Thiel, Brinkman and Trochinski.
Schaefer credited the senior class with a lot of hard work and dedication.
"They've been amazing," Schaefer said. "Their dedication is outstanding. They work for the good of the cause and the love of the game. We can't say enough about them. They are outstanding young women as well as volleyball players."
In the final match of the tournament in Eau Claire on Saturday, 15 different Titans worked to defeat Martin Luther College in three sets 25-12, 25-20 and 25-22.
The team was lead by 14 kills from Brinkman along with six kills from Elstner and five from Thiel and Jaeke. Elstner also recorded three service aces.
The Titans managed to sweep the University of Minnesota Morris in three sets on Saturday morning with set scores of 25-26, 25-28 and 25-19. Unlike the previous match, UWO committed only seven attacking errors and as hit for a season high .395 percent as a team.
Elstner led the team with nine kills, Vogt had five kills and lead the team with six blocks, Thiel contributed 33 assists and Gardner put up 18 digs.
UWO matched up against University of Northwestern St. Paul in the second game on Friday and fell in four sets, 22-25, 25-22, 14-25 and 15-25.
Even though the Titans held advantages in service aces 6-5, digs 73-66 and blocks 15-8, they totaled 44 errors including 22 on the attack and 13 while blocking.
Thiel acknowledged the errors, but didn't get too discouraged by comparing herself to Green Bay's starting quarterback.
"Teams will have ups and downs," Thiel said. "Sometimes, just like Aaron Rodgers, you don't have your best game, but it is up to us to pick up our game and fill in the holes."
In the first match of the tournament against Gustavus Adolphus College, UW Oshkosh fought back to win in five sets. UWO now has a record of 7-0 in five set matches. After falling in the first two sets 22-25 and 20-25, the Titans took the next three sets 25-21, 25-16 and 15-8.
Elstner recorded her eighth double-double of the season with 10 kills and 10 digs for the Titans. Gardner pulled through with a season high 28 digs and Thiel matched her season high with eight blocks as well as 39 assists.
Jaeke was named to the All-Tournament Team as she totaled 36 kills, 22 blocks, 14 digs and 12 service aces.