Volleyball goes 2-1 in Whitewater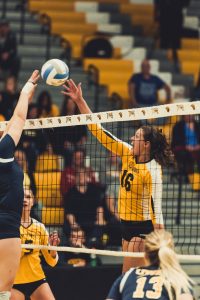 The UW Oshkosh women's volleyball team picked up two wins this past weekend in the UW-Whitewater Invitational.
The Titans defeated Loras College of Iowa in three sets and Elmhurst College of Illinois in four sets, but suffered a three set loss to Carthage College.
Despite the better record, UWO (22-6) fell to Carthage (14-10) 16-25, 24-26 and 30-32.
Head coach Brian Schaefer said he was not impressed with the mentality of the girls.
"We didn't play very well against Carthage," Schaefer said. "Carthage is a good team; we didn't get upset by a ton. We just didn't come out on the road mentally tough enough to play from the first serve."
In the first set, Carthage jumped to an early 12-3 lead they wouldn't relinquish. The Lady Reds held onto a consistent seven-point lead the rest of the set.
The Titans remained in the driver's seat throughout most of the second set. They opened the set with a 3-2 lead, which built to 14-8 on an ace from sophomore Tina Elstner.
Behind 11-17, Carthage went on a five-point run to close the gap to 16-17.
The two teams tied the set at 22-all and 24-all before the Lady Reds captured the game with a kill and a Titan error.
UWO also held a 19-16 lead in the third set before Carthage went on a six-point run to establish a lead of 22-19. Facing match point, the Titans battled to tie the set at 24 with kills from sophomore Carly Lemke and freshman Shannon Herman. UWO took the lead 25-24 with a block from Lemke and Herman, but evened the score again with an error.
Even though Oshkosh faced four more match points, they eventually fell with errors on the last two points.
In order to keep leads, Herman said the team needs to battle until the game is done versus being satisfied with a lead.
"We need to be less content and keep pushing until the end instead of getting to 20 and totally shutting down," Herman said.
The Titans kept up with Carthage in service aces (5-5), but trailed in kills (30-56), digs (46-66) and hitting percentage (.131-.244), with three Titans in negative percentages.
Team leaders against Carthage included: Elstner with 10 kills and Herman who chipped in nine kills. Lemke provided three blocks, freshman Rachel Gardner supplied 12 digs, and senior Lexi Thiel racked up 30 assists and three service aces.
UWO rebounded to defeat Loras College in three sets 25-14, 25-23 and 25-23.
After the Duhawks scored the opening point, the Titans went on to score the next five to lead 5-1. Their lead extended to 10-3 on a service ace from sophomore Brianna Witter.
The Titans then went on a seven point run, aided by multiple kills from Elstner, to go up 16-8. For the rest of the set, the Titans didn't lose the lead.
To start the second set, UWO scored 11 of the first 13 points aided by six kills from various players and two service aces from sophomore Brianna Venturini. With a seemingly sound 24-18 Oshkosh lead, Loras fended off five set points before freshman Samantha Jaeke pounded out a kill to finish the set 25-23.
In the final set, the Duhawks took a 9-3 lead. Trailing, UWO went on a four-point run to pull within two. Oshkosh took their first lead after a nine-point rally, including four blocks and four errors from Loras, to go up 17-11.
Just as the previous set, the Duhawks didn't let the Titans run away with the win easily. Loras battled against five match points before Lemke smashed a kill to close out the win.
Herman said the team had a talk about the Carthage game and how to turn the negatives into positives for the Loras match.
"Before the Loras game, we thought about what we could change and do better," Herman said. "We took our mistakes and turned them around. We didn't want to just be aggressive.
We wanted to be smart and aggressive with our shots."
Jaeke had eight kills and Lemke put up seven kills, while Gardner and senior Laura Trochinski held the team up with 17 digs and 14 digs.
Two players for the Titans recorded a double-double against Loras. Elstner totaled 15 kills and 12 digs to earn her ninth double-double of the season while Thiel contributed 30 assists and 10 digs to achieve her 30th career double-double.
In the last match of the tournament, Oshkosh ranked 22nd, faced off against 16th ranked Elmhurst College of Illinois. Going into the matchup, the Titans had lost the last five of six meetings since 2010. However, they would snap the streak and defeat Elmhurst in four sets.
Despite a poor performance against Carthage the previous day, Elstner knew the team would play better.
"I know we could have done a lot better against Carthage," Elstner said. "After everyone got their jitters out, I knew we would play a lot better."
The Titans went ahead in the first set after a four-point run to lead 20-13. The run was highlighted by kills from Elstner, Jaeke and senior Nerissa Vogt. Elstner also had an ace. However, the Bluejays rallied back to tie the set at 21 after six Oshkosh errors. Elmhurst would go on to win the first set 25-23 off of two kills and an ace.
In the second set, UWO took their first lead at 13-12. The lead swelled to 21-15 after three kills from Elstner and one from Vogt. The set ended on an Oshkosh block by sophomore Renee Rush and Vogt.
To begin the third set, the Titans trailed 10-9 but went on a five-point run to claim a 14-10 lead. UWO maintained the lead the rest of the way, as much as eight points, before capturing the set with a kill from Lemke.
On the brink of a fifth set, trailing 24-22, Lemke and Rush put up a block in combination with a Bluejay error to tie the game at 24. The Titans fended off two more set points before getting a kill from Elstner and capitalizing on a Bluejay error to clinch the match.
Schaefer thought the win would help the team's regional ranking. Oshkosh currently sits in fourth place behind UW-La Crosse, Elmhurst and UW-Whitewater in that order.
Schaefer praised his players for beating a good Elmhurst team.
"They are a solid team," Schaefer said. "Last year we lost to them in five. Not only was it a good win to even the score with them but this year specifically for regional rankings. It gives us some separation as one of the top four teams in the rankings from the bottom four."
Leaders for the Elmhurst match included Vogt with six blocks and 13 kills, Gardner with 19 digs and Thiel with 45 assists combined with 13 digs.
Elstner, who totaled 19 kills and 13 digs, earned her second consecutive and 10th season double-double. She was also named to the All-Tournament Team.
In regards to her performance, Elstner does not register how well she plays; it just happens.
"I'm not conscious of it," Elstner said. "I think it's cool, but it's something I'm expected to do. I have high expectations for myself."