Men's and women's CC finish in top ten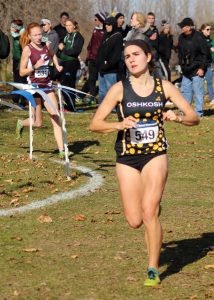 UW Oshkosh men's and women's cross country teams both had strong finishes at the NCAA Division III Midwest Regional this past weekend. The women finished fourth out of 38 competing teams, and the men took home seventh place out of 33 squads.
The women's fourth-place finish was enough to earn an at-large bid in the NCAA D-III Cross Country Championship in Louisville, KY, on Nov. 19. The strong performance was solidified with three runners finishing in the top 15 and six in the top 60.
The majority of the participating runners were upperclassmen, as four runners were juniors and one was a senior. Head Coach Eamon McKenna stressed the value of all runners being able to contribute to the team, regardless of class standing.
"Often times, we will have freshmen contributing to our scoring team," McKenna said. "So, we need them to value every opportunity they have without waiting for junior or senior year to feel like they have to go 'all in.'"
Junior runners Cheyenne Moore, Kristen Linzmeier and Erica Munyan led the team, as they placed 4th, 13th and 15th, respectively. This race marked the second-best finish for Moore this season as well as the third-best for both Linzmeier and Munyan.
Senior Leah Rendflesh finished 45th, while freshman Ashton Keene recorded a 48th-place finish. Sophomore Michelle Draxler took home 58th and junior Jessi Stamn concluded Oshkosh's solid team effort by finishing 104th.
The at-large bid the women received marks their second consecutive trip to the championship race. Draxler said the upperclassmen have tried to prepare the underclassmen for moments like this since the beginning of the season.
"Being one of the older girls on the team, I always try to set a good example," Draxler said. "That includes socially, academically and at practice or meets."
Freshman Breanna Van Den Plas said her teammates were the biggest factor in her development during her first season here.
"I knew that if I wanted to perform well in races, I would have to put in the effort to be prepared," Van Den Plas said. "All the little things I tried to do helped in the end. I knew going in that I would not be anywhere near the best, but I wanted to try and get better for myself. They pushed me to be better by cheering at every workout and by doing the little things together as a team."
The men's seventh-place finish did not warrant either an automatic or an at-large bid in the championship race, so their season has come to an end.
All six runners for the men were upperclassmen, as it was evenly divided between juniors and seniors with three apiece. Senior Tyler Miletti, who individually earned a berth in the D-III Championship race next week, led UWO with a 13th-place finish.
Seniors Charlend Howard and Joe Zack were next for Oshkosh, as Howard finished 23rd and Zack 32nd. Junior Mitch Pauers, Trevor Damkot and Daniel Massey finished in 69th, 78th and 130th, respectively.
The men's team finished fifth this season in the Wisconsin Intercollegiate Athletics Conference with 215 points.
Next week's championship for both the women's team and Miletti marks the final race of the year. Last season, the women took 15th-place in the championship and Miletti finished 141st.