Titans fall in Sweet 16 matchup against Bears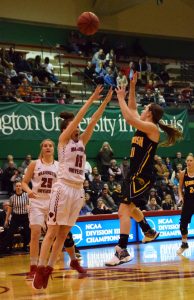 ST. LOUIS — University of Wisconsin Oshkosh had another strong season come to an end after its loss to the Washington University Bears in the Sweet Sixteen Friday. By falling 68-56, UWO was unable to make a berth in the Elite Eight round held Saturday.
Head coach Brad Fischer said the team knew Friday's opponent would pose a challenge, but thought the Titans would come out on top.
"This one hurts a lot," Fischer said. "Obviously we have a lot of respect for WashU and we know what kind of program they have, but at the same time we expected to come here and win."
To begin the contest, the Titans faced an offensive onslaught that led to an early 10-0 lead by the Bears. Specifically at the under-five minute media timeout, Oshkosh had a dismal 12.5 shooting percentage and two points via a basket from junior guard Jaimee Pitt.
UWO was able to turn the tides in the opening quarter by going on a 12-0 run to tie the game with 3:15 left in the first. An effort play from senior guard Taylor Schmidt started it off, as her missed basket translated into a quick steal off the defensive rebound, a put back and an and-one attempt.
Schmidt converted the free throw and brought the game back to a 12-7 deficit. An assist from Schmidt led to the first points for senior forward Madeline Staples, and another basket from Pitt, this time a 3-pointer, brought the game to 12-all.
Being tied was the closest Oshkosh got to holding an advantage in the game, as WashU held the lead or was tied for the entire game. At the end of the first quarter, the Bears held a slight advantage of 17-12, the closest Oshkosh got at the end of a quarter in the entire game.
Three players for the Titans scored in the first, as Schmidt and Pitt led the team with five points apiece. Pitt went two-of-two from the field, including one from behind the arc, while Schmidt knocked down all three of her shots from the charity stripe to go with her lone field goal of the period.
Schmidt also chipped in two assists in the quarter, and she said the level of toughness WashU displayed through the entire game was a big factor in the game's outcome.
"They were really tough and they knew where we were going to be," Schmidt said. "Constant physicality and I think we just hadn't seen that in a while. Just having someone in your face constantly, that just stepped up the intensity a little bit."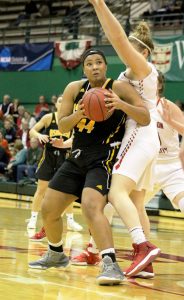 In the second quarter the offensive distribution again focused on three players, as Schmidt knocked down a 3-pointer at the top of the key for her only points of the quarter, junior forward Eliza Campbell knocked down a three as well and Staples converted an inbounds play for a lineup for two points.
Going into halftime, Oshkosh faced a 32-20 deficit to the Bears. UWO was shooting a dreadful seven-of-25 from the field to the tune of 28 percent, while grabbing 11 rebounds.
Four Titans scored in the first half, as Schmidt led the scoring with eight points on two-of-four shooting and three made free throws. Other scoring came via Pitt with five points, Staples with four and Campbell contributing three.
The third quarter was the highest-scoring period of the game for Oshkosh, as they put up 23 points in 10 minutes. Scoring was much more evenly distributed in this period, as seven Titans scored.
Freshman guard Olivia Campbell led the way with five points on two-of-two shooting and one made free throw. Staples, sophomore Isabella Samuels and senior guard Morgan Kokta all chipped in four points, with Eliza Campbell, Schmidt and senior forward Alex Richard contributing two apiece in the quarter.
Early on, the team faced some foul trouble, as Richard earned two quick fouls. Fischer said despite this happening, the team could rely on its strengths to make up for any deficiencies.
"We have done a good job of staying out of foul trouble this year, partly because we do have a lot of depth," Fischer said. "Obviously it was not ideal, Alex [Richard] is important to us, but they had foul trouble too. I do not know that we blinked a lot with that piece, we just got a lot of players that we trust."
Going into the fourth quarter, Oshkosh faced a 49-43 deficit. On a spin move and drive, Eliza Campbell scored the first points of the fourth quarter for the Titans.
UWO put up 13 points in the quarter, which was not enough to complete the comeback in the contest. Schmidt, Eliza Campbell, Richard and Staples all contributed to the cause.
Schmidt helped with four points in the quarter, as her tough defense and constant offensive focus led to successful possessions for the Titans. On separate possessions, Schmidt converted two of four free throw attempts and added another layup in the process.
Eliza Campbell added two points on one-of-three shooting and secured a defensive rebound in the process. Richard had her highest scoring quarter of the contest, as her four points on a perfect showing from the field in two shots was coupled with three total rebounds.
Off the bench, Staples provided the other offensive support in the quarter with three points. She was fouled on a shot attempt, earned an and-one attempt and converted the free throw.
Staples echoed the thoughts of Schmidt in regards to the tenacity the Bears showed, as she said WashU's gameplan had success against Oshkosh.
"[Their] physicality was definitely different than something we have felt the last couple games," Staples said. "Offensively, they did a good job knowing where we were going to be."
In a season where a minimum of 25 games are promised, a 26-4 record is something UWO can only be proud of. In terms of it being successful even though it ended sooner than wanted, Schmidt said there are aspects outside of basketball that have shaped her to be who she is today.
"Being a Titan has given us everything, it has given us a second family," Schmidt said. "Teammates and the other family members have become family as well, and it is very hard for us to move on because of that."
This family mentality is an aspect the team has believed in for a while now, and Staples said it is something the team is built on and will greatly miss.
"This team is like my second family," Staples said. "I have best friends on this team that will stand up in my wedding. All year, we were a family and like I said in the locker room, I did not want this to be over because I am going to miss seeing them everyday, and that is a huge credit to what the culture of Oshkosh basketball is. It is a family built around toughness and determination and those lessons, and it is going to lead us seniors in the rest of our lives."
This team has experience earning berths in the tournament, and it can be tied back to the beginning of Fischer's time at Oshkosh. He said the history of this program only supports the present teams and that team has that something special about it.
"This is the fourth consecutive year we have won a tournament game," Fischer said. "The list of teams has gotten shorter and shorter of teams that have done that. It hurts a lot, because we are built in a way that the way our team is built, relationships go back five years. Our team is our team every year. They went right from the word 'go' to the tournament. I am glad it hurts, because that means it means a lot to us."
Through the leadership of the senior class, the Titans were able to improve upon the result of last year by making the Sweet Sixteen. Schmidt said that while the entire team comes from different backgrounds, there are factors that make them gel together.
"We all have different personalities," Schmidt said. "I think we all lead differently and that is good because we are not very strong-willed in one area, we can see all areas, so I think that helps us."