Titans begin road back to National Championship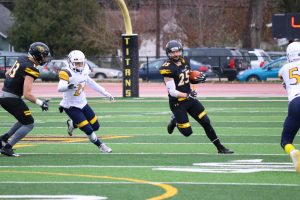 After finishing a 9-0 regular season being ranked third in the country by D3.com and being the first team announced in the NCAA Division III football championship playoffs, the UW Oshkosh football team has won the first two rounds of the playoffs in record-setting fashion. It now advances to the quarterfinals for the third straight season to take on the 12-0 Iowa Intercollegiate Athletic Conference champion Wartburg Knights at 12:05 p.m. at Titan Stadium Saturday.
In the first round of the playoffs, the 8-2 Lakeland University Muskies were shutout by the Titans 63-0. This past Saturday, the Titans defeated the 10-1 North Central College Cardinals 42-21 in a game that proved to be historic for two of the Titans' key offensive seniors: quarterback Brett Kasper and wide receiver Sam Mentkowski.
Beating the Cardinals with a career high and school-record-tying six touchdowns, Kasper also managed to surpass two UWO football records against the Cardinals. Now sitting at 9,233 career passing yards and career 85 touchdown passes, Kasper passed Titans former quarterback Brian Tomalak in both categories.
Tomalak played with the Titans from 1995-1998 and held the previous record at 8,983 yards and 83 touchdown passes.
Although Kasper managed to place his name in the Titans football record books, he said winning the game and continuing the playoff run is the most important thing. Kasper said the win on Saturday was a collective effort and although the offense seems to be clicking on all cylinders, the team always has ways to get better.
"It was a good performance overall as a offense, but we are always looking to improve," Kasper said. "Our goal is to score on every drive and when we don't do that then we are not satisfied. We feel good about our performance, but obviously this isn't our main goal. We never let ourselves get too comfortable."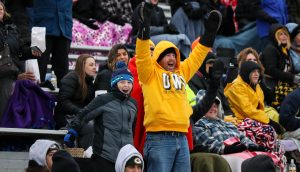 Kasper connected to wide receiver and fellow senior Mentkowski four times for two touchdowns to help him set the program record with 165 career catches. He surpassed former Titan Zach Kasuboski who held the previous record of 164 receptions.
Mentkowski said the high pressure situation of the playoff tournament makes it important for the team to not let the excitement ruin their focus. He said although the recent success has been historic, the team cannot let itself feel as though it has reached its best: the team needs to always strive for improvement.
"We have to continue to just approach every week the same way and approach each practice the same way we have been the whole year," Mentkowski said. "We can't get complacent, and we have to just keep going out there and having fun. We talk about how we want to score on every drive, and we get frustrated if we don't. I think that is a good thing for an offense. We don't get too high when we do score and we don't get too low when we do go three-and-out. We stay even keel and we try to go out and score every drive."
WIAC George Chryst Coach of the Year award recipient and head coach Pat Cerroni said he is pleased to see his players achieve their goals. He said he recognizes the work they put in and to see it pay off is what it is all about.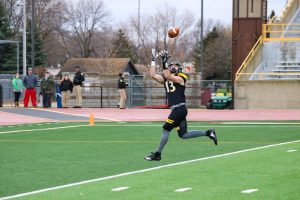 "We still got work to do, that's our attitude right now and it's nice to see that," Cerroni said. "We work hard to set goals in life and to get everybody on board. We are achieving some of the goals we have set and that's pretty cool. That doesn't happen very often in life where you can get a group of people together to focus on one thing and actually accomplish something. We have not reached all our goals yet but we are sure trying."
Going forward in the tournament to face the Knights, Cerroni said the tests will get harder for the team. However, he said the challenge of beating top-ranked opponents is not anything new to the Titans.
"In the last year we have beat John Carroll three times, we've beat St. Thomas, we've beat St. John's, we've beat North Central and now they're sending the Iowa Conference Champions our way, so it's just another test for us," Cerroni said.