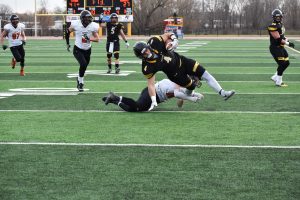 The UW Oshkosh Titans football team remains undefeated through the postseason after defeating 17-ranked Wartburg College Knights by a score of 41-27 this past Saturday. Although the Titans' margin of victory was significant, the game was back and forth throughout and tied in the third quarter at 20-all. However, the UWO defense managed to hold the Knights from scoring as the offense found their groove to take the lead and the eventual win.
In the contest, the Titans defense managed to hold the Knights to 336 yards of total offense in 71 plays and four of 14 on third-down conversions, while the Titans offense put up 503 total yards in 64 plays with five of nine first downs.
After the game was tied in the third, the Titans' offense went on to score on three straight drives to take the lead. The Knights were then held scoreless by the UWO defense to make it 41-20 midway through the fourth.
Titans junior defensive back AJ Plewa led the Titans' defense in broken-up passes with four, and also finished the game with five total tackles. Plewa said although the defensive unit executes well on the field and feels good about their performance, it is the coaching staff that is truly behind the playmaking.
"It's awesome, our coaches put us in awesome positions we just really execute the game plan to the best of our abilities and just make stuff happen," Plewa said. "Every team in the playoffs is a really good team. I mean, you can't take any team lightly. You gotta play every team like they are the best team."
Head coach Pat Cerroni said although the offense is capable of putting up the points needed to win games, the games can not be won without the defense executing the way they do on the field.
"Our offense is very powerful and defensively, we can play at times really well," Cerroni said. "We play defense when we need to, we bend but don't break and we have won a lot of games playing this kind of defense. So we are just going to keep doing it and see where it takes us."
Senior starting quarterback Brett Kasper said having a defense that knows how to make plays and can prevent opponents from scoring is a true advantage and takes pressure off of the offense.
"They've stepped up huge," Kasper said. "Cerroni has said they are going to stick with their base stuff and run it to perfection. Nothing should be too confusing to them. They have played a full season now and they're comfortable with all the things that are running, so with their comfort we feel pretty comfortable with that as an offense."
As the Titans move forward to face the Division-III football powerhouse Mount Union Raiders, Plewa said the team needs to just continue to trust their coaches game plan and take it play by play.
"Mount Union, they are a very good team, but our coaches put us in the best positions," Plewa said. "We just adjust on every play."