Softball starts off year in Michigan
The nationally ranked UW Oshkosh softball team began the year undefeated after four victories on Feb. 24 and 25 in Marquette.
The UW Oshkosh women's softball team traveled to Marquette, Mich. to play four games to kicked off the new season. The team came into the season ranked 23rd in the NCAA Division-III and had its entire starting lineup returning from last season, consisting of two All-Great Lakes Region Selections: senior third baseman Erika Berry and junior catcher Abby Menting.
Head coach Scott Beyer, who is entering into his fifth year at UWO, said the development of last season's underclassmen is already paying dividends.
"Last year we started about four freshmen, [and] there is a major learning curve for them," Beyer said. "For that to carry over, we can focus on so many things such as mental approach, and we don't have to teach them the little things. Having those returners helps out our younger kids as well."
The squad's four-game stretch in Michigan started on Saturday against Concordia University and the College of St. Scholastica. UWO won both games in dominating fashion, starting with a 12-1 win against Concordia and a 8-0 win against St. Scholastica all on Saturday.
Both games ended in the fifth inning due to the eight-run rule. The women's team continued its flawless play into Sunday with a 6-1 win against Lakeland University and a 9-1 win against Marian University.
Vs. Concordia
UWO's first game against Concordia was a rematch from last year's matchup, which resulted in a loss for the Titans. The Titans got their revenge Saturday, totaling 11 hits and batting in 12 runs, a major improvement from the two hits they earned in the last matchup.
After leading 4-0 through the first two innings, the Titans would open the floodgates in the third inning by scoring seven runs. Twelve batters reached the plate in the inning and recorded five hits. The Titans knocked in five RBIs by five different batters and Concordia lended a helping hand by committing four errors in the inning alone, adding to the five errors Concordia committed overall.
The offensive clinic put on by the Titans was led by freshman outfielder Carly Szada, who in three at-bats, recorded two hits, scored two runs and batted in two RBIs. Sophomore shortstop Natalie Dudek and junior outfielder Emma Fionda contributed two hits apiece as well. UWO junior starting pitcher Bailey Smaney kept Concordia confused all day, only allowing one run on five hits. She also struck out four batters in the game and earned her first victory of the season.
Vs. St. Scholastica
In UWO's second game of the day against St. Scholastica, the Titans saw their sophomore pitcher Claire Petrus dominate on the mound by pitching a complete shutout in five innings and allowing four hits. She faced only 17 batters in the game and struck out three of them.
Petrus, who contributed 15 outs and turned two double plays as well, was supported by excellent infield play. Petrus translated her play from the mound to the plate by hitting the game-ending two-run double.
Dudek finished her day at the plate with another two-hit performance and scored two runs in the game. The highlight of the game came from sophomore outfielder Acacia Tupa's inside-the-park solo home run in the first inning.
In the game, Oshkosh scored two runs in the second and fourth innings and finished off the fifth inning with three runs. Berry said based on the team's depth, its defensive performance wasn't surprising.
"We have a really deep team," Berry said. "This year is really special because we have so many people that can play so many different positions and that can step up when they need to."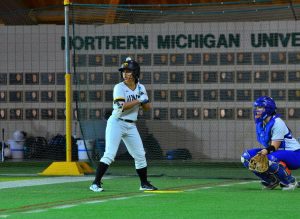 Vs. Lakeland University
The domination wasn't just a one-day thing for the Titans as they put up two more lopsided victories, first with a 6-1 win against Lakeland University.
Smaney topped her previous day's performance by pitching a career-high seven strikeouts against Lakeland. She allowed six hits and just one run, improving her record to 2-0.
The offense came in spurts for the Titans in this game as Dudek got the Titans going in the second inning with a two-run double. Another double by sophomore second baseman Amanda McIlhany resulted in another run in the third inning. Menting and Berry would contribute two hits apiece and the Titans went on to score four runs over the next three innings.
Vs. Marian University
In the second game of the day, the Titans turned up their offensive performance by totaling 15 hits and scoring nine runs.
Menting finished a strong day at the plate by going three-of-four, including a ground-rule double and an RBI. Berry contributed her second-straight two-hit game and sophomore outfielder Natalie Dillon also tallied two hits.
Smaney wasn't the only pitcher that had a career day on the mound, as Petrus tied her career-high in strikeouts by striking out six. She only allowed one run on five hits in the five innings she pitched.
Dudek said she was pleased with the team's performance this past weekend, especially how the team's mindset remained consistent throughout.
"We took one game at a time and that was our focus going into the weekend was not taking any team lightly and playing down to their level," Dudek said.
As for the season, Beyer said the team has set high but reasonable expectations for itself.
"I expect us to contend for conference title," Beyer said. "I expect to push for the conference title or at-large bid for the NCAA Tournament. Anything short of that would be a disappointment knowing we have such a great team. We have great returners and strong group of freshmen."
The team will head to Tucson, Arizona next weekend to face a daunting six-game stretch in three days.