Titans up for dancin'
The UW Oshkosh men's basketball team battled a hostile crowd but was eventually shut down against the UW-Stevens Point Pointers on Friday in the semifinal round of the Wisconsin Intercollegiate Athletic Conference tournament.
The game was close for a majority of the night, but turnovers and stellar free-throw shooting by Stevens Point led to the Titans' demise.
The game opened with a plethora of players scoring for both teams as the first seven baskets of the game were made by seven different players. Poor shooting then plagued both as 10 minutes into the game, the score was only 15-10 in favor of Stevens Point.
Oshkosh fought back from that deficit to pull within two at the break, trailing 30-28.
In the second half, UWSP junior Nate Dodge took over as he scored nine of his 12 points in that half by hitting on three of his four shot attempts from three-point range.
The Titans kept trying to answer back with big threes from senior guard Charlie Noone and freshman Sam Ebersold in the final 24 seconds, but the game was already out of reach. The Pointers went on to win by a score of 71-63, advancing to the WIAC tournament final in the process.
Noone led the Titans with 18 points as he shot 50 percent from behind the arc, splashing five of his 10 shots.
Noone was adamant that they had to stay focused in order to stay in the game due to the wild atmosphere.
"In a hostile environment, it's really important to just lock in on what's going on on the court and block out everything else," Noone said. "Focus on what you can do to help your team, whatever that may be."
Standout junior Ben Boots had a hard time figuring out the UWSP defense as he shot four of 13 from the field and one of seven from three-point range. He also committed a game-high five turnovers.
Senior guard MJ Delmore came up huge for the Pointers down the stretch as he connected on all 10 of his free throws to put the game away. Delmore finished with 23 points on the night.
UWO sophomore Jack Flynn recorded a double-double, finishing with 11 points and 10 rebounds with six rebounds coming on the offensive end.
Head coach Pat Juckem knew Quandt Fieldhouse would be a wild atmosphere but stressed that this was nothing new for his proven Titan team.
"We're battle tested," Juckem said. "That's one of the benefits of playing in a tremendous league like the WIAC. You play in pressure-packed games, you play top-25-caliber teams and you play in some really great environments and Stevens Point is one of those."
The Titans finished with 16 turnovers in a relatively low-possession game, so this is something Juckem said needs to be fixed if they want to make a deep NCAA Division-III tournament run.
"When we take care of the basketball and have low turnover numbers, we are at our best," Juckem said. "We want to stay aggressive, but we have to really value [possessions] and just be solid."
Noone also said he believes turnovers will decide the fate of the team in the NCAA tournament.
"Limiting our turnovers is definitely a huge emphasis heading into this weekend," Noone said. "If we are able to limit our turnovers, we give ourselves a great chance to be successful."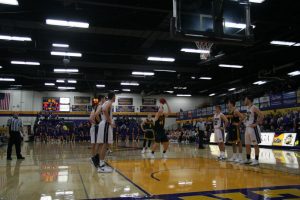 The Titans now will play in the D-III men's basketball tournament against Marietta College (Ohio) in Springfield, Ohio on Friday afternoon.
The Pioneers present a tough task for the Titan defense as they have scored in triple-digits in four games this season.
Juckem knows that his team will have to be stout defensively in order to advance past the first round of the NCAA tournament.
"They're really explosive offensively," Juckem said. "They play fast; they could play with a 15-second shot clock. For us, it'll begin with our transition defense, getting our defense back and making them play in the half court."
Sophomore forward Adam Fravert and the rest of the Titans have been focused on how to slow down the Marietta College's strong offense in practice this week.
"The last couple practices, we've been talking about what we can do to get three or four more stops in a game," Fravert said. "Many of our big runs this season came from us forcing turnovers and bad shots. We just need to have that mindset the next couple days, and we should be ready to slow them down Friday."
If the Titans were to advance, they would play the winner of the Wittenburg/Misericordia matchup on Saturday.
About the Contributor
Neal Hogden, Managing Editor
The College of Letters and Science at UW Oshkosh is proposing to increase teaching loads in 2019-20 in an effort to overcome a $1 million budget shortfall.

Under...