Fravert pushes Titans to national championship game
Behind sophomore forward Adam Fravert's performance, the UW Oshkosh Titans are now one win away from earning the program's first national championship.
Using a posterizing dunk and a double-double from sophomore forward Adam Fravert, the UW Oshkosh Titans have advanced to the program's first Division-III championship game after a 73-57 victory over Ramapo College.
Out of the gate, the Titans missed some easy shots and gave up easy baskets to the Roadrunners on its way to facing an early deficit.
Ramapo wasn't shaken by the magnitude of the situation as they started out the game with five seniors on the court.
After falling behind early, a 13-0 run gave Oshkosh a 15-9 lead with 12:06 left to play in the first half.
UWO sophomore forward Jack Flynn found a lot of success in the paint against the smaller Ramapo defenders. He went to the free-throw line four times in the opening period and made two of them, ending the half with six points and five rebounds.
Junior guard Brett Wittchow and Fravert both hit shots to put the Titans up by seven at the break.
Fravert and senior guard Charlie Noone led the Titans in scoring with eight points apiece, while Fravert also led UWO in rebounds and assists with six and two, respectively.
UWO's defense against a formidable opponent was spectacular in the opening half as they forced Ramapo senior guard Josh Ford into four turnovers. This led to transition opportunities for Oshkosh.
Coming out of the half, the Roadrunners displayed a tough full court press, which forced Oshkosh to get into their offensive sets late in the shot clock.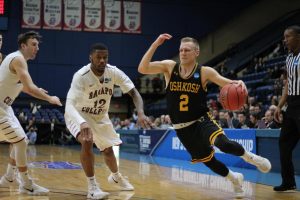 Early in the second half, Noone picked up his third foul, forcing head coach Pat Juckem to play reserves in his place. Noone said after the game that he didn't put too much thought into his recent struggles with foul trouble.
"No one likes to be in foul trouble," Noone said. "It's the last thing on my mind right now. I'm just happy to be able to play another game with my guys."
With 18 minutes left in the contest, Fravert split the defense and threw down a massive, posterizing dunk over a helpless Ramapo defender to swing the momentum in the Titans' favor.
Oshkosh opened up an eight-point lead with 12:31 to go on a fast-break layup by Boots.
Wittchow and Fravert were working well together in the middle part of the second hal,f as both were feeding each other for easy buckets to build Oshkosh's lead.
With 5:35 left in the game, the Titans ratcheted up their defensive pressure, as they didn't allow a single Ramapo point until UWO built a 19-0 point lead with 37 seconds to play.
Juckem said the Roadrunners imposed their will at times in the game and his team had to force them to make tough shots in order to come out with a win.
"There was a stretch from the 10-minute mark in the second half, down, where we fouled them a couple of possessions in a row," Juckem said. "We were forcing them into tough shots but we kind of bailed them out a few times. So we just tried to be really active, defensively."
UWO finished the game on a 13-3 run, beating the Roadrunners 73-57 to advance to the D-III National Championship game.
Fravert finished the game leading the Titans with 21 points, 13 rebounds and five assists. He said opportunities opened up for him because of the attention his teammates commanded.
"I just gotta keep doing what I'm doing," Fravert said. "They were doubling Jack a lot with their big guys so we had to get it to me in the post."
This victory also marked Juckem's 200th-career victory, a mark he said he is proud of, only if 201 is gained tomorrow.
The Titans will play the winner of the contest between Nebraska Wesleyan University and Springfield College at 5 p.m. (CT) tomorrow.
About the Contributors
Neal Hogden, Managing Editor
The College of Letters and Science at UW Oshkosh is proposing to increase teaching loads in 2019-20 in an effort to overcome a $1 million budget shortfall.

Under...