History stopped short
After making the program's first-ever appearance in the NCAA Division-III National Championship game, the UW Oshkosh men's basketball team's season came to an end without the results they wanted.
The journey ended one step too soon.
The UW Oshkosh Titans men's basketball team fought until the final buzzer, but were ultimately out-dueled by Nebraska Wesleyan University 78-72 in the NCAA Division-III National Championship game Saturday.
The Titans made a championship-game record 17 three pointers, led by junior guard Ben Boots' six shots from behind the arc.
Boots talked about the mentality he and the team had going into the championship game.
"As a group, we came together and said we were going to do our best to play this like a regular game," Boots said. "Obviously, it's far from that but I think we were able to collect ourselves and treat it like that once the game got going."
Nebraska displayed its traditional 3-2 defense, which opened up shooting lanes early for UW Oshkosh. Head coach Pat Juckem said that the press was tough to prepare for on a back-to-back schedule.
"Nebraska Wesleyan is a tough prep on a back-to-back based on what they do offensively and defensively," Juckem said. "In an ideal world, you'd have a little more time to prepare for it. I credit our guys. They accepted the challenge."
Early and often, the Titans hoisted up threes and were successful in doing so. UWO shot 63 percent over the first nine minutes and when they missed, sophomore forward Jack Flynn was there for the offensive rebound and put-back, helping the Titans reach a 22-14 lead.
NWU wasn't going to be outdone, as the Prairie Wolves averaged 96 points per game this season, scoring in triple digits 10 times and also shot a healthy 63 percent during that span.
To close the half, NWU's Nate Schimonitz landed three shots from behind-the-arc, including a buzzer-beater, which left the Titans with a 45-43 deficit at the break.
At the half, the Titans were led by senior guard Charlie Noone with 11 points and junior guard Ben Boots and sophomore guard David Vlotho with nine each.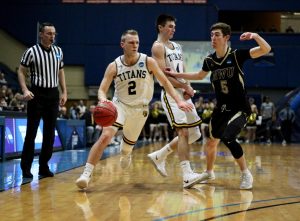 Coming out of the half, the Titans forced the Prairie Wolves to commit three turnovers in their first four possessions and scored five points of their own to take a 48-45 lead.
NWU's Cooper Cook dueled with Wittchow in the first nine minutes of the second half as both players hit three shots from behind the arc.
Turnovers and fouls from the Titans led to a 17-3 run by the Prairie Wolves, giving them a 10-point lead with eight minutes left to go in the game.
The Titans kept battling on defense and held Nebraska to zero points over a five minute period while Boots nailed two threes to tie the game at 72 with 2:52 left to play.
Nebraska got a clutch three-pointer from Jack Hiller at the 2:17 mark and the Titans were unable to climb back from the deficit, falling by six at the buzzer.
Boots finished with 24 points to lead the Titans while Noone, playing in his final game, scored 14.
After the game, Noone was able to look back on where he leaves the team and his legacy at UWO.
"It's kinda hard to look at now but I think in the future I'll be able to look back," Noone said. "That's kind of the goal when I came in. To leave it better than I found it and it's been an unbelievable experience."
Juckem reflected on the season and legacy his two seniors left behind at UWO.
"Charlie and Jake Laihinen, who had two torn ACLs and came back, got a second major and had some great moments this year and is part of the reason that we're here," Juckem said, "they leave behind a legacy and a standard that I know Ben and his teammates will hold very high and know that they have work cut out for them in order to beat that.
Juckem said the heartbreak that the team feels now should not overtake the team's magical run it went on.
"It's been a really special journey and we have so many incredible memories that we're going to look back on," Juckem said. "I'm reminded of a quote, 'If you haven't invested very much, then winning winning isn't very exciting and losing isn't very painful.' There's a lot of pain in our locker room right now."
About the Contributors
Neal Hogden, Managing Editor
The College of Letters and Science at UW Oshkosh is proposing to increase teaching loads in 2019-20 in an effort to overcome a $1 million budget shortfall.

Under...