Starting pitching carries Titans
The UW Oshkosh baseball team got a couple of stellar performances by its starting pitchers to go 4-1 in a week full of Wisconsin Intercollegiate Athletic Conference opponents.
UWO took three out of four games over the weekend from UW-Stout. Senior pitcher Jesse Sustachek pitched a complete game in the 7-2 victory the Titans handed Stout in game one. Senior Andy Brahier had five hits in the win including following up junior left fielder Zach Radde's solo homer with a dinger of his own later in the first inning.
The game was never close as the Titan offense gave Sustachek a healthy 4-0 lead in the fourth inning and kept applying pressure as the game went on.
Brahier, who is second in the WIAC in batting average, said the team has been focusing on trying to string hits together all season.
"I think a lot of the guys would agree that hitting is contagious," Brahier said. "We're confident enough in our abilities at the plate that one hitter can spark a rally just like that. That leads to a lot of big innings and jumping out to big leads."
Head coach Kevin Tomasiewicz attributes the offensive explosion this season to the hard work put in by his players.
"I think it is a lot of hard work on our players end," Tomasiewicz said. "They have bought into our new hitting approach and are just having a good year so far."
The second game was close throughout, but a last-ditch comeback effort by the Titans was thwarted by the Blue Devils.
After trailing 6-2 heading into the bottom of the seventh inning, the Titans put up two runs in the seventh and one more in the eighth but could not muster any more to lose the game by a deficit of 6-5.
Offensively, the Titans were led by junior third baseman Dylan Ott who recorded a pair of hits along with two RBIs.
Junior starter Colan Treml gave UWO a gem of a pitching performance in the third game against UW-Stout giving the Titans a 9-1 victory. Treml went all nine innings, struck out nine Blue Devils and gave up three hits.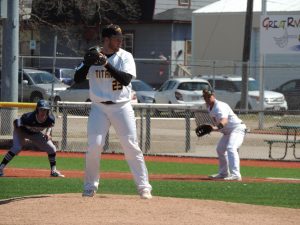 Treml pitched on short rest but said that shortened time between starts helps him keep in a rhythm.
"Ever since I was younger, I always liked to pitch more often with less days of rest in between," Treml said. "It 100 percent lets me keep my rhythm going and helps me feel my pitches more. If I have a long rest in between starts, yeah my arm may be fresh and ready to go, but I feel as if I've lost something. Two or three days is plenty of time to recover from being tired."
Treml's win pushed his record to 8-0 and is the best mark without a loss for a Titan since Jordan Timm went 11-0 in the 2003 season. Tomasiewicz said he's been impressed with how much Treml has grown in his time at UWO.
"Colan has gotten better every start he's had," Tomasiewicz said. "He is learning how to use his pitches to get batters off balance and induce early count outs. This has allowed him to pitch longer into games and help save our bullpen. It has been fun to see him develop and compete against some of the best in the country."
Treml's 2.11 earned run average is fifth in the WIAC despite having pitched the most innings in the conference.
The Titans scored in all but one inning in their 10-5 victory in the series finale. The Titans scored early and often as they opened up a 7-2 lead in the fourth inning.
Brahier opened the scoring as he belted a three-run shot in the first inning to give Oshkosh an early 3-0 lead. Lucas Gregory started for UWO and went six innings while giving up three runs to get the win.
Brahier said having a lot of games packed in a short period of time helps him get a rhythm going at the plate.
"As a hitter, I don't mind playing a lot of games in a short period of time," Brahier said. "Facing tough WIAC pitching gets a little bit easier if we are able to see it on a more consistent basis, rather than only on the weekends."
The Titans traveled to Mauston as UWO won a pseudo-home game against UW-Stevens Point 3-2.
UWO pitcher Nick McLees was able to battle back after facing some early trouble and throw a complete game, scattering six hits over the nine innings. McLees struck out three Pointers in the effort.
Brahier said the team has confidence in its pitching staff to handle the schedule and keep opponents' offenses at bay.
"This many games in a short period of time definitely tests the depth of our pitching staff, but I trust every single guy we put on the mound," Brahier said. "I think that's something that not many teams can say."
Senior shortstop Jack Paulson recorded three hits in four plate appearances to lead the Titan offense. Juniors Alex Koch, Sam Schwenn and Jonathan Selchow all had RBIs for UWO.
Oshkosh now sits tied for third in the WIAC standings behind UW-Stevens Point and first place UW-Whitewater. The Titans will travel to UW-La Crosse on Friday and Saturday to play the Eagles in a four-game series.
About the Contributors
Neal Hogden, Managing Editor
The College of Letters and Science at UW Oshkosh is proposing to increase teaching loads in 2019-20 in an effort to overcome a $1 million budget shortfall.

Under...