Men and women take top spots at home invite
"The Titan cross-country teams competed in the Titan Fall Classic last Friday. This marked the Titans' second race of the season and took place at the Lake Breeze Golf Course in Winneconne, Wisconsin.
It was a successful day for both the men's and women's teams, with both groups winning their respective races and large groups of Titans placing in the top ten of each race.
Evlyn Noone ran a great race in her second collegiate race ever, and Amanda Van Den Plas, Lexi Reichardt, Breanna Van Den Plas, Melissa Srnka, Megan Berg and Sydney Fricke joined her in establishing new personal records.
Head coach Eamon McKenna said he was impressed with the results from both teams and that they did a great job of committing to one another by running in groups.
"The women raced first, and they set the tone for a good day," McKenna said. "Although conditions were very windy and the field size was small, the women attacked the course with purpose. "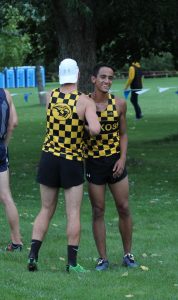 Noone won the women's side of the Fall Classic with a time of 22:49, finishing 1:53 ahead of Amanda. Noone said the rough conditions and running at the front of the pack made her fade during the race.
"This meet was pretty small, so it was treated more like a workout," Noone said. "Regardless, I wanted to just try my best, especially it being my first 6k race ever. I'm still pretty new at racing in cross country races, so each race and workout so far has just been a learning curve. When I crossed the finish line I felt like I had more in me, which was a little disappointing."
Amanda, who finished in second place with a time of 24:02, said she thought of the race as a workout day.
"I just wanted to work hard with my teammates and see what we could do," Amanda said."I wanted to get a base time for the season, so I knew where I was at."
On the men's side, senior Lucas Weber won with a time of 25:54.
Coach McKenna said the men's improvement from their first race of the year was good and that the men really had a great day.
"The women showed them that the conditions could be overcome, and the men did an excellent job of executing their race plan and of running with each other and feeding off of one another as the race progressed," McKenna said. "They were much more confident and focused than in the first meet of the year."
Weber led the way as the top collegiate finisher, while Andrew George, Andrew Muskevitsch, Steven Potter, Kiernan Koepke, Bob Szymanski, Zach Molland, Andrew Strasser, Tyler Buckley Hunter, Parker Scheld, Aaron Dorsey and Matthew Brown established new personal records.
The men's team finished in groups with the first group ending in places 2-7, all within a minute of each other. Andrew George finished fourth with a time of 26:28 and commented on running with the pack throughout the race.
"I just kept thinking about running with my teammates through the wind, and then trying to move up when the wind was at my back," George said. "With one mile left I knew I simply had to just give it my all and finish on empty."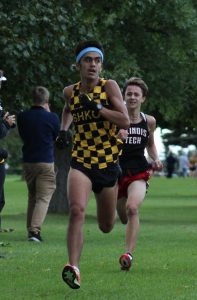 The men and women have been off to a good start this season for UWO. McKenna said there were a few early struggles, but the day-to-day improvement he's seen so far has been good from these young teams.
"The first meet was solid for the women, but a struggle for the men," McKenna said. "As I mentioned, both teams showed a lot of improvement in our second race. The teams are learning how to run with each other and run for each other while also growing in their ability to work hard and work smart on a daily basis. Our ability to figure out how to improve every day will be a key for these young teams as we continue to grow throughout the season."
Coming up on the schedule for the Titans is the UW-Eau Claire Blugold Invitational this Friday, Sept. 28. McKenna said this meet is important because they will face conference competition and run on the course in Eau Claire that will host both the WIAC and NCAA Regional championships.
"We want to continue to show growth in terms of running together, accepting the hurt of racing and improve our mentality as competitors," McKenna said.
"We will look to improve our times and to show our competitive nature."
The Titan men will also be competing in a split squad this weekend as the men will try and defend their title at the Roy Griak Invitational in Falcon Heights, Minnesota.