Women's basketball advances to the NCAA Division III Sweet 16
Nikki Arenson's 's two-point basket with 1.8 seconds remaining gave the 14th nationally ranked UW-Oshkosh women's basketball team a 54-52 victory over the 19th ranked DePauw University (Ind.) in the second round of the NCAA Division III Championship on Saturday at Kolf Sports Center.
The Titans led the Tigers by three points, 28-25, heading into the third quarter before UWO made a 11-2 run to extend their lead by as much as 10.
The Titans held a seven-point advantage, 41-34, heading into the fourth quarter before DePauw University sparked a comeback early in the fourth, closing the Titans' lead to a possession, 49-47, with 3:20 to play.
UWO and DePauw University exchanged baskets the remainder of the quarter until a last-second shot by sophomore guard Arneson put the Titans up with 1.8 seconds left to play.
Tiger forward Claire Keefe's attempt at a last-second basket to tie the game fell short, yielding a Titan victory and a go-head into the NCAA's D-III Championship Sweet 16 bracket. This is the Titans' second time advancing to the Sweet 16 in three years.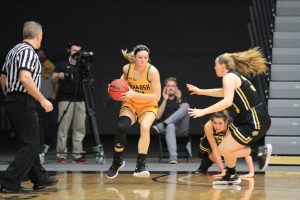 Sophomore guard Leah Porath led the Titans in scoring off the bench with 12 points on 6-for-8 shooting from the floor. Porath also had three rebounds and two assists.
Samuels, who recorded 22 points in UWO's first round, 72-46 victory over Pomona-Pitzer Colleges (Calif.), tallied eight points and gathered a team-high seven rebounds.
En route to her fifth double-digit effort of the season, junior guard Olivia Campbell posted 11 points and a game-high five assists and four rebounds for the Titans.
DePauw University's Keefe tallied a double-double with a game-high 18 points and 11 rebounds.
The Titans will face off against 11th nationally ranked Wartburg College (Iowa) in the sectional round of the NCAA D-III tournament on Friday at a to-be-determined destination.