Promball tops off rugby's season
UW Oshkosh women's rugby hosts its annual 7s Promball tourney where all players participate in prom dresses at the East Hall Fields
The UW Oshkosh women's rugby team finalized its winning spring season after taking second place in the Titans' annual 7s Promball tournament on Friday in Oshkosh.
The Titans, who concluded their season by placing either first or second in all of their competitions, split up into two teams, Oshkosh Gold and Oshkosh Black, for the seven-team tournament.
Oshkosh Black opened the tournament with a 22-15 win over UW-Whitewater before falling to DePaul University (Ill.) 30-14 in the second match.
In the second-place match Black claimed a nailbiter over DePaul, beating them 26-25.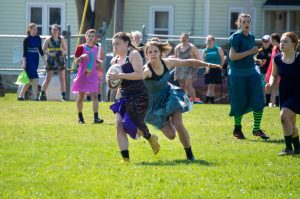 Oshkosh Gold went 0-2 on the weekend as they dropped games to UW-Stevens Point and UW-Eau Claire. The Titans lost to the Pointers 15-10 and to the Blugolds 24-12.
The Warhawks won the overall tournament title after claiming three consecuative wins against Oshkosh Black, DePaul and Stevens Point.
UWO sophomore captain Grace Begotka said that the results of this spring season will only help come competition time in the fall.
"I am very proud of how everyone performed and how consistent our team has been this season," Begotka said. "We used this spring to help us prepare for next fall and to have a little fun. I am eager to see how our team develops next year and am looking forward to next season. Our seniors had a great year as well and will be missed dearly."
UWO senior Nicole Timm said head coach Cat Lewis' efforts are the reason this team has been so successful.
"My coach dedicates so much of her time to us," Timm said. "Many people don't realize that she doesn't actually get paid for this. She really takes the time to teach new players, and I will forever be grateful that she saw something in me and took the time to help me learn."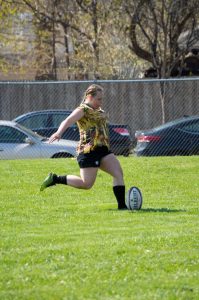 With the conclusion of the spring season, the Titans send off a six-women senior class, including scrum half Nicole Timm, full Amanda Zimmerman, lock Olivia Juel, flanker Jordan Borchardt, flanker Beth Hill and wing Becka Fenske.
Lewis, who's in her third year of coaching with the program, said she will miss this year's senior class because of their ability to lead their fellow teammates.
"I will miss the leadership and skills that they have developed over the years. All of our players look up to our seniors because of their experience and knowledge of the game — that is always hard to lose."
With the fall season just around the corner, Lewis said UWO can expect big things from the Titans.
"Fall is our more competitive season," Lewis said. "We are hoping to go back to nationals and defend our conference title. I am looking forward to maintaining a strong rugby program at UWO and creating a team that all of our players, including rookies, will be proud of, no matter if we win or lose. But preferably win."
In the fall season, the Titans will return to regular 15s play instead of springtime 7s.