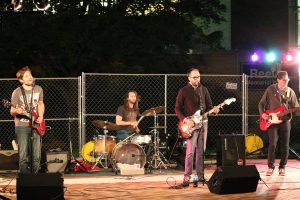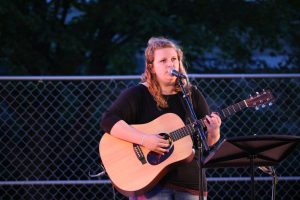 The front lawn of Horizon Village hosted a live music event Sept. 15, which brought in two local talents from the Fox Valley– Kelsey Johnson-Fisher and Tim Schneiger and the Middle Men.
Reeve Union Board member Riley Smith was in charge of preparing for this event, for which planning can take over a year.
"We started planning the basics last year," Smith said. "We reached out to people in August and gradually got more and more set in stone for what's gonna happen tonight."
RUB has quite a few artists that they want to try to feature in future live music nights.
The Board chose an outdoor venue for this event, which Graham Kunde said was more personal than other locations on campus.
"I really like the outdoor sessions, especially with the weather right now," Kunde said. "It's more open than the Underground would be, and more intimate."
"There's a list with contact information of artists who have reached out to us," Smith said. "We sample their music, ask if they want to perform, and if they can, they're in. We usually try to have two artists."
Dylan Bram, head of RUB, said the Live Music Event has become a tradition.
"[Reeve Union Board has been putting these on for] a long time," Bram said. "I was a student in 2008, and they were putting it on then."
While there are plenty of artists on the list, Smith said the Board tries to keep their searches narrow and set up takes more than just the Board.
"We reached out to 10 artists." Smith said. "We sampled their music and narrowed it down to these guys. We had an executive meeting where we all talked about the venue. We got a contract with the AV people and they set it up. It's a team effort between us, the Board and AV."
The performers don't necessarily have to be students to perform in live music events; for example, Johnson-Fischer works in the Union and oversees the TV tech in Reeve, and Schweiger plays music professionally.The two performers at this event play different genres, so there wasn't one set music theme.
The pieces that were performed were a mix of covers, originals and mashups, such as a mashup of Adele's "Rolling in the Deep" and Taylor Swift's "Bad Blood," which Johnson-Fischer called "Rolling in Bad Blood."
"[I play] folky-pop and a lot of Adele covers," Johnson-Fischer said.
"[I play] rock-and-roll, and classic pop-rock," Schweiger said.
Johnson-Fischer said she started writing, before she started playing music.
"I wrote a lot of poetry in middle school, and I also played violin." Johnson-Fischer said. "I came to college, and it all started from there."
Schneiger's said he's inspire d by his family.
"My daughter [is my motivation]," Schweiger said.
Some viewers, such as student Graham Kunde, said he came because he wanted to watch his friend Kelsey play.
If students are a part of a band or a stand-alone music act, they can also be featured at live music nights. And if you are looking to get involved with Reeve Union Board, there are different ways to go about doing so.