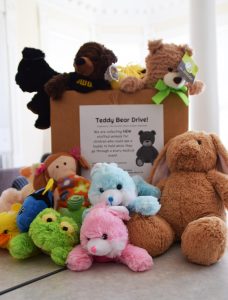 The University Honors Student Association is collecting teddy bears this week to be donated to children at Mercy Medical Center.
New stuffed animals can be dropped off at the Oviatt House on the UW Oshkosh campus at any time until March 31.
This is the second annual Teddy Bear Drive UHSA has hosted and it began as an idea from former UHSA president, now senior advisor, Elainna Jentz.
"I have volunteered at Mercy Medical Center for over 4 years now, and have been exposed to a wide range of situations in the emergency room," Jentz said. "The focus is always placed onto the patient, and often times the family members, mainly children, are pushed to the side."
Jentz said she thought giving out teddy bears to frightened children in hospitals could change their entire perception of the scenario and even put them at ease.
"Donating a stuffed animal is one of the quickest and easiest ways to make a large impact on a child during a vulnerable point in their life," Jentz said.
UHSA executive board member Noelle Fenwick said the overarching goal of this teddy bear drive is to be able to provide any child in Mercy Hospital with a bear to hold on to.
"[With these donations] whenever a child comes in sick or their caregiver [can't be in the room with them] they can have some sort of comfort during a traumatic time," Fenwick said.
UHSA also accepts cash donations for those who do not have the time or ability to go out and buy a bear.
"Our hope is that cash donations will increase," Fenwick said. "When I first heard of the drive I felt that many college students would be willing to help but [may not] be able to go out and purchase bears."
UHSA executive board member Chloe Sebo said accepting cash donations has been a major benefit to this teddy bear drive.
"A lot of students don't have time or just simply forget to get a bear," Sebo said. "It is much more convenient for them to get cash."
Sebo said once they collect all of the cash donations, she and Fenwick are able to go to the store and purchase more bears to give to Mercy.
"Our goal throughout this drive is just to get our peers and the Oshkosh community to come together and give back to kids who are less fortunate than ourselves," Sebo said.
UHSA faculty advisor Elizabeth Taylor said this year they are hoping to double the number of donations received last year.
"For [last year being] our first year, things went well," Taylor said. "We collected about three dozen animals for Mercy."
While they do have a numerical goal in mind, Taylor said the main goal is to simply help young children cope with the scary and often painful experiences that come with dealing with emergency treatment at hospitals.
"These stuffed animals are given to any child that comes into the emergency room either for treatment themselves or with a parent or family member needing medical assistance," Taylor said. "The animals we donate give them something tangible to hang on to in stressful situations."