UW Oshkosh celebrates Thai culture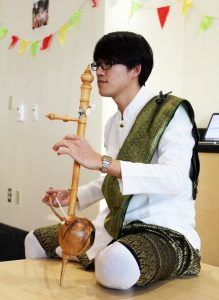 The International Students Association shared some parts of Thai culture for their monthly cultural night in the Horizon Village Rec Lounge Friday night.
The event was put together by the Asian Students Association with four Thai students choosing which aspects to feature.
This was the first year UW Oshkosh had students from Thailand, so it was an exciting moment for everyone who is a part of the association.
Since April is Asian Appreciation Month, they thought it would be perfect to have an Asian culture that has not had major representation in Oshkosh be the theme of this month's culture night.
UWO Immigration Compliance Coordinator Johannes Schmied helps students run these events and explained how they choose which culture to feature each month.
"The International Students Association, together with the Executive Board, who are also students, decide which culture will be featured," Schmied said. "And they start discussing it at the bi-weekly meetings with all the members of the International Students Association."
Schmied said once they decide which country will be featured, they work with the students from that country to help make the food, decorate and set up activities.
UWO senior and International Students Association president Yeng Lee said she was the one who asked the Thai students to be featured this month and helped them buy supplies.
"I just asked the Thai students and they said they would do it," Lee said. "So they came up with the recipes, and then we took them shopping for the ingredients. We came here early tonight to help them prepare the food and set up the tables."
The Executive Board also helped by promoting the event and got everything ready for the Thai students to make sure the night went smoothly.
The event had many different activities, with Thai music playing throughout the room and the colors of Thailand's flag decorating the room.
The night started off with three main Thai dishes for students to try. These dishes were a spicy minced chicken salad, green curry with chicken and Massaman curry with chicken.
After everyone had gotten some food, the students played a Thai music piece with a Saw U, a traditional Thai string instrument.
After the music performance, they started a game of Thai bingo, using the forty-four letters of the Thai alphabet that those attending arranged into any order in hopes of winning a prize from Thailand.
The last activity of the night was a traditional dance in the middle of the room that was free for anyone to jump in at their will.
UWO senior BreeAnna Fisher said she enjoyed the food and, although she wasn't able to do everything, was interested by the Bingo game.
Fisher also said she thinks a future event should focus on a country that isn't expected, like an African country or a Mediterranean country, since Oshkosh doesn't have a lot of that kind of food available locally.
"Typically we do Asian cultures, so it would be interesting to see maybe, an African country or maybe like Scandinavian, Greek, Mediterranean," Fisher said. "We do have a lot of European food up here since we have a lot of Polish and German descent. So, it would be interesting to have something we don't usually have."
Senior Eunice Kim said she thought seeing an African country featured would be interesting. She also said that she enjoyed the food and learning about Thai culture.
"I loved the food a lot," Kim said. "I never knew their alphabet so I could learn their alphabet, their culture, their food and I loved it."