The Oshkosh Symphony Orchestra (OSO) and UW Oshkosh musicians have merged and are creating a reimagined orchestra for the campus and community.
As of this fall, OSO will be comprised of UWO students, professional musicians and members of the Oshkosh community.
The new director of OSO, UWO's Dylan T. Chmura-Moore, is excited about the community aspect that comes with this new partnership.
"I believe that a community with great music making is healthier because music brings people together. It fosters empathy and encourages understanding of cultural differences," he said.
"It's a rare and special thing to have an orchestra in a community, we are lucky."
The partnership is about being responsive to and hearing the community, Chmura-Moore said.  
"What does our community need? I'm asking this and similar questions now," Chmura-Moore said.
The partnership will lead to a lot of growth for everyone involved.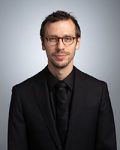 "UWO students, adult community members and professional musicians will make music side-by-side and grow with each other," Chmura-Moore said.
"Musical, personal and professional life-long relationships will be made, strengthening the community," He said.
This will also be a way for alumni to be involved on campus again to make music.
"OSO will be another place where alumni are welcomed back to campus," he said. "OSO encourages this to continue after graduation and allows for music-making, lifelong."
The hope is to also have music help manage the stresses of everyday life as well.
"We know music helps us manage stress, navigate anxiety and keep our brain fertile, encouraging intellectual curiosity, beyond it being a social glue," Chmura-Moore said. 
"We surely need this tool in adulthood."
Students will be helped through different support the partnership will create. 
"Students are being helped by performing more diverse, higher level music," he said. 
"Also supported is the development of professional connections, enhancement of learning through mentorships, on-the-job training via internships and boardroom experience."
Chmura-Moore said while OSO and UWO has had an unofficial partnership in the past, that relationship has since faded.
"OSO has a mission of education and supporting the community; it's an easy and natural match."
He is hopeful for what this might mean for the community and all involved.
"I believe this relationship can bring out the best in each other."
Editor's Note: This story has been edited to correct the spelling of Chmura-Moore's name.