In May, faced with stiff competition and declining business, owner Ken Osmond considered closing Planet Perk, a cozy cafe in downtown Oshkosh that had served as a meeting place and restaurant for 27 years.
Mainstream coffee giants began to draw away the audience that Planet Perk relies on. Additionally, many of the neighboring employees of other local businesses had left or transitioned to remote work. Both led to a significant 30% decrease in business.
Rather than giving up, Osmond was approached by his employees, who suggested that he take up the idea that had been in the back of his mind for nearly a decade: opening up a cat cafe. An idea that now promised the potential to strike back the spark into Planet Perk.
Behind the cafe sat an empty space with untapped potential. That is where Osmond saw an opportunity to bring the cat cafe to fruition. He approached the Oshkosh Area Humane Society (OAHS), speaking with Executive Director Jeff Miller, who was more than excited to develop plans further. Eventually, Planet Perk and OAHS made the decision to collaborate in the creation of the "Planet Purrrk" Club–a co-working space featuring an additional cat lounge with all felines available for adoption.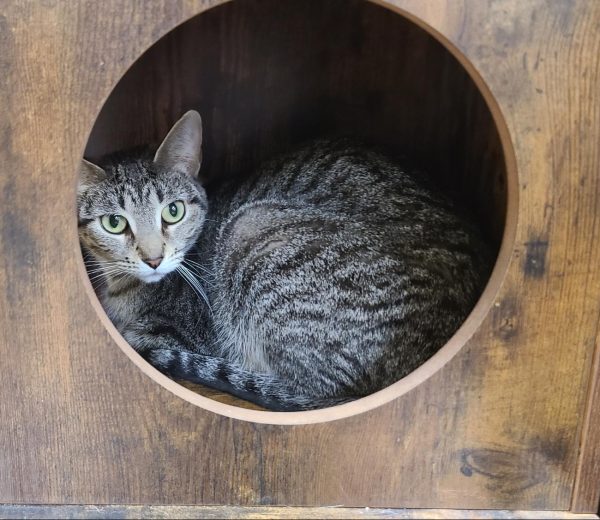 Planet Perk has not only welcomed more than 15 cats since their collaboration, but they also adopted a "Humane Society Plus One" philosophy. Osmond explained, "Whatever the Humane Society does, we will go at least one step further…We always try to go one level of quality better, one extra step better."
Staff at Planet Perk receive certified training to become volunteers and adoption counselors through OAHS, ensuring their readiness to care for the cats. Moreover, this allowed Planet Perk to offer valuable input on adoptions based on their first-hand interaction with the cats.
Another feature of Planet Perk is that it operates as a large foster home for adoptable cats sent over from OAHS's main shelter. Cats can roam freely in the main lounge, lounge around on sofas, or climb the various mounts available to them. Osmond points out, "We provide an environment that they (OAHS) just can't have, for example, you get to see our cats play with other cats. You get to see our cats interact with other humans, you get to see our cats play… So you get to see them actually as a cat and not as an animal inside of a cage or a cat condo at the humane society."
However, the benefits of Planet Purrrk go beyond the cat lounge. Osmond said he wanted to benefit community mental health, drawing from his own personal experience with his children who had animal interaction programs through their universities. These programs provide soothing and calming effects on students, which help those with anxiety. Thus, a study hall component was added and opened to high school and university students. (Students are welcome to study there seven days a week for no fee, but must make a purchase in the cafe.) Osmond also reached out to local retirement homes, inviting elderly residents to visit free of charge, as he recognized the positive impact that animals can have on individuals with dementia and Alzheimer's.
If you're worried about the level of cleanliness, Planet Purrrk is one step ahead of you. Air purifiers are run 24/7 to cycle in fresh air, and filter any smell from litter boxes that are scooped every two hours. Staff work hard to sweep and mop floors twice a day, and a Roomba is run at night to keep down on cat dander.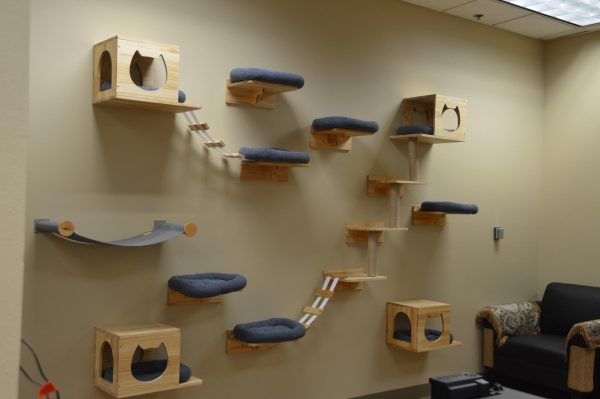 It's important to note that Planet Purrrk isn't a "cat cafe" per se, but a co-working space/study hall with a cat lounge as an addition to the space. This decision allows for a welcoming environment for those who are allergic to cats or are seeking a feline-free experience.
In the cat lounge, there are bookable meeting/office spaces that are kept cat-free. Osmond viewed co-working spaces as rooms that were cold and devoid of life, but cats could bring life into these spaces.
If studying isn't your cup of tea, perhaps the nightly events held weekly by Planet Perk and local businesses may resonate with you. These events are held on specific days of the week and are open to all interested. More information can be found on the Planet Purrrk section of the website, but some examples include "Wine, Words, and Whiskers," a social hour for bookworms, "Adventure Game Nights" for those interested in games such as DnD, and Friday art classes.
Memberships are offered by Planet Perk that include benefits to private parking, access to 5 private offices, high-speed internet, copier/printer machines, office supplies, and discounts in the cafe. Membership prices vary, but it's priced so that the longer your membership is, the cheaper it is. Monthly memberships are priced at $85, while an annual membership comes down to $55 per month.
All cats residing in the cat lounge are microchipped, vaccinated, spayed or neutered, and available for adoption. The number of adoptions varies; you can walk into the cat lounge where there's a full house one day and all of the cats will be adopted out the next! Less than two months after opening, 16 cats had already found forever homes.
Despite the wonderful success and opportunity provided to him, Osmond remains humble and community-focused. It's something that he implores the younger generation to do. 
Osmond says that if he could talk to every college student or young person, he would tell them to invest back into their communities."You have to ask yourself what type of community, what kind of future am I investing in?"